"Cinderella" opens at Eastern this week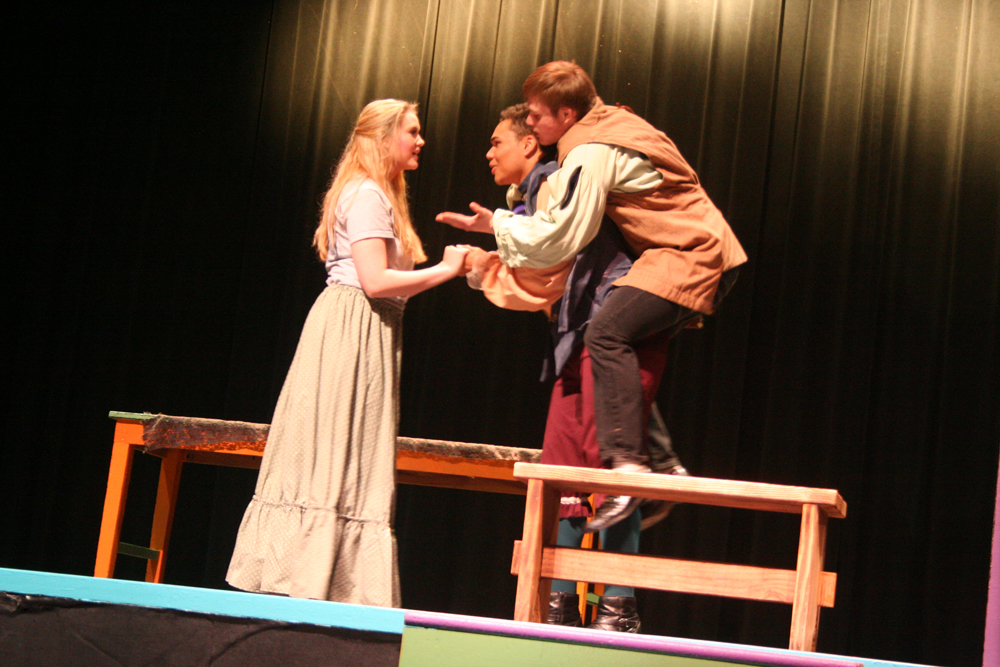 This archived article was written by: Katie Felice
USU Eastern's Theatre department is in its last rehearsal for their last play of the semester, "Cinderella: a Fractured Fairy Tale."
Although this production is not quite the story you may be used to, this "Cinderella" will introduce new characters, special effects, a happy ending, and audience interaction and participation.
Professor Corey Ewan directs the play along with Marki Kazebee as stage manager, Aaron Bone as assistant stage manager and Brent Innes as technical director. Members of the cast include: Mckylin Rowe AJ Brimley, Bethany Prettyman, Bright Ostergar, Camie Jones, Chloe Clarke, Christopher Palo, Christine Redford, Donnie Corwin, Erica Weber and Hunter Stevenson. The cast also includes Jennifer Thomas, Jennifer Taylor, Josh Bone, Kaylee Denver, Keely Earl, Laura Bills, Liz Anvik, Mckylin Rowe, Scyler Smith, Skyler Winder, Tavery Larsen and Toby Prettyman.
The crew began working on this play upon returning from spring break. They are holding rehearsals and getting the stage and costumes ready. Marki Kazebee holds a vital position in the crew as she is in charge of running rehearsals, keeping the director on task, keeping track of cast and crew and the prop list.
As the play is airing, Kazebee calls the cues and conducts when the scenery should be moved. In order to move the scenery of the set in a timely manner, there is a specific person designated to each set that will move the piece when it is time.
Kazebee personally enjoys her position as stage manager because she, "Plan[s] to do this as a career and this gives me the opportunity to learn how the job works."
Diana Cox, costumer designer, says the most anticipated scene of the play is, "Cinderella's magic dress transformation." As this play has previously been done in other productions, Cinderella usually has to make a full costume change, but this team has chosen a different attempt and the dress transformation will be an illusion.
"The best part of this play is the costumes," states Liz Anvik, who plays the fairy godmother. 
Cox states this production of Cinderella is best described as, "Stand up comedy meets melodrama." Members of the cast say the play is a production that all ages will enjoy. Younger children will enjoy the story and the cast says, "Adults will get a kick out of it." They will be running matinees for the elementary schools on April 20-21 starting 9:30 a.m. 
Cinderella will run from April 16-18 and 20-25 at 7:30 p.m. each night, except for Saturday April 18. On April 18, to accommodate for the Carbon High school prom, they will have an early matinee show at 1:30 p.m. On Monday April 20 they will be having a family night at 7:30 p.m. with a special family admission price of $20.