Cooking with Toby: the joy of pear scones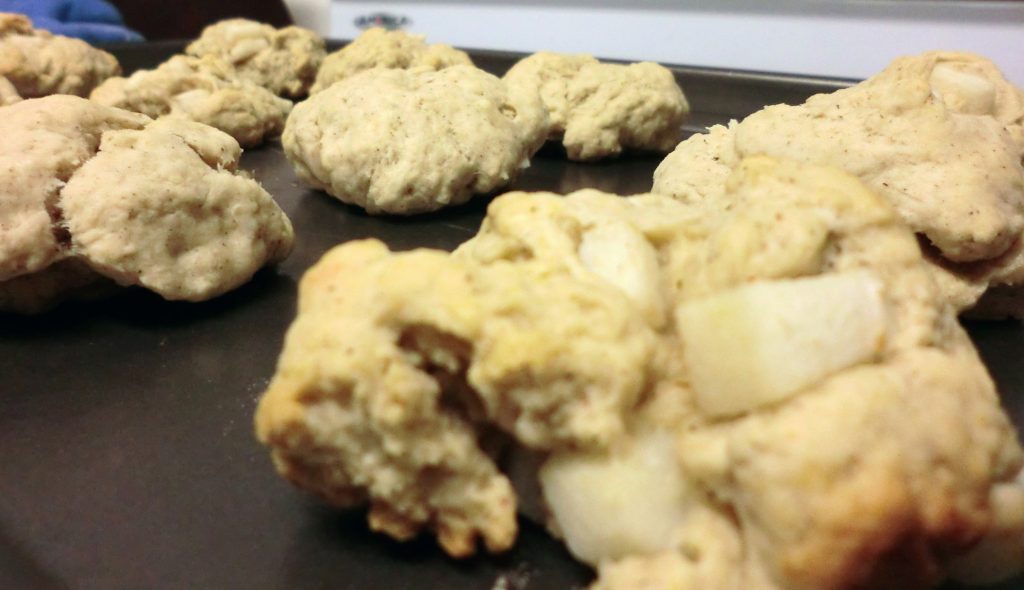 This archived article was written by: Toby Foster
Before I say anything, this recipe is for English-style scones. Most of you are probably more familiar with American scones and the list of differences was longer than I expected. But they do fit my purpose for this recipe.
The English-style scone uses a dough that is slightly stickier than an American scone. And it is baked, not fried. This will make for faster preparation and healthier scones. The English-style of scones is similar to a soft cookie, but nowhere near as sweet either. This makes for a pastry that is a little more subtle in its flavor than a dessert would be. If you need to sweeten it at all, you can use honey, jam, jelly or butter.
My premise for this issue is to provide a snack you can make on the weekend and eat all week when you need one. They store well in the fridge if you seal them in a bag or bowl, and can be reheated in the microwave if you do not want to eat them cold. Personally I think they are great both warm or cold.
The main thing to remember with this is that the instructions for mixing are not entirely necessary as far as mixing the ingredients in order. However it does make your life easier so that the dough mixes more evenly.
One of the early steps says to cut the butter into the flour. This means to either use a pastry cutter or a fork and just press the butter into the flour mixture so the butter squishes between the tines of the fork. Later it says to create a well. This means to put a crater into the center of mixture in the bowl.
I know that using heavy cream may not be available for everyone, but it really rounds out the flavor and the texture. If you do not want to buy heavy cream, milk does work. It is a little healthier, but you are left with scones that are not as tender and not as sweet.
This is also a major difference between the American and English scones. When I make scones with my family we make sour dough scones and fry them, the American way. Cream is not in them at all. The cream would actually make it harder to fry. Plus if you pay attention to American versus British recipes, in general there are more foods made with cream than you see in American cuisine. However, the English are much less likely to fry foods. Steaming and boiling are much more popular choices. We got deep frying from the many Asian influences on our culture.
Deep frying was created to save fuel sources (wood, coal, etc) in regions where they are scarce, by speeding up the cooking process. England, when their cooking culture was developing, was covered in woodlands. China, on the other hand, had to conserve their resources and thus discovered developed deep frying as a major cooking medium.
2 ½ cups flour
2 tbsp packed brown sugar
1 tbsp baking powder
½ tsp nutmeg
¼ tsp cinnamon
¼ tsp cloves
¼ tsp ginger
¼ tsp salt
1/3 cup butter, cut up
2 eggs
2/3 cup heavy cream
1 pear
In a large bowl combine flour, brown sugar, baking powder, nutmeg, cinnamon, cloves, ginger, and salt. Cut the butter into the flour mixture until all pieces are pea sized or smaller. Make a well in the center.
In a medium bowl combine eggs and heavy cream. Mix until smooth. Pour into the well. Mix with a fork until all parts are moist. Kneed by hand until everything is mixed into a uniform dough.
Preheat the oven to 400º F.
Peel and core the pear. Then finely chop the pear and kneed it into the dough.
Shape the dough into golf ball sized balls then arrange them on an ungreased cookie sheet, about 2 inches apart, and press flat. Bake for 8 to 12 min. Serve with butter or jam or honey.