Players of the week: Paige and Brandon Eyring on playing sports and marriage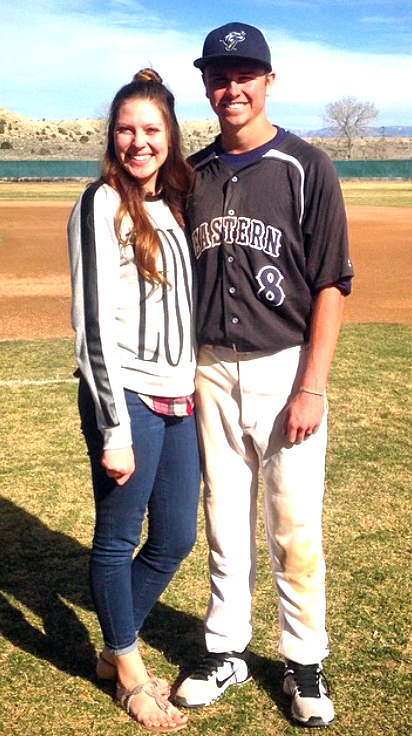 This archived article was written by: Kyndall Gardner
Couples that play sports together, stay together, right? This is true for Paige and Brandon Eyring, a married couple that participate on the women's volleyball and men's baseball teams at USU Eastern.
Paige and Brandon are both originally from Mesa, Ariz. They had mutual friends all through high school, but really reconnected the summer after he got home from his LDS mission. Immediately hitting it off, they started dating early that same summer. Paige was committed to playing volleyball at Scottsdale Community College last fall, while Brandon was committed to playing baseball at USUE. They dated all through the summer, then went separate ways in the direction their sports took them.
Paige had a successful season at SCC, being a starting outside hitter for the team. Brandon was playing fall ball in Price and starting his college baseball career. They continued talking long distance, seeing each other whenever possible when they weren't playing sports.
In November 2014, Brandon took a trip back to Ariz., took Paige riding with his family, then got down on one knee and proposed to her. They were married in the Gilbert, Ariz. Temple on March 12, 2015.
After getting married, Paige knew she wanted to continue her volleyball career, but wanted to be with her husband in Utah. She transferred from SCC to USUE and signed to be on the volleyball team. She is now the starting right-side hitter and leads the team in kill percentage with a .230 for the whole season. Brandon is still working hard on the USUE baseball team playing right field where he is excited for all that the spring season has to offer.
Being a student athlete is hard enough, being married on top of that can sometimes add more stress. Paige and Brandon are happy and wouldn't want it any other way, but Paige admits it's hard to be away from the husband she loves so much and be the wife she wants to be.
Page has said, "It's hard. Hard for the both of us to be playing sports. I only get to see him about three or four days a week when we have away games. As soon as volleyball season is done and I stop traveling is right when baseball season picks up and he's the one leaving all the time. But it's nice to always have someone to come home to after a long weekend of playing."
As far as their athletic goals are concerned, after this year, they both want to continue playing their sport at a four-year university, but both are willing to sacrifice for the other if an opportunity comes along.
They are both very supportive of each other in their sports. Brandon is at every volleyball game he can go to, and Paige is at every baseball game she can go to. Both of them being athletes and being so competitive makes their marriage more fun. "Whether its sports, a card game, or racing to the door, everything is a fun competition with us," says Paige.
Sure, the house isn't always as clean as they want it to be, the laundry isn't always done and dinner isn't always made because both are so busy with school and practice, but they are proof that being married and being a college athlete can work. If you love your spouse, are supportive of them and have things in common, any marriage can be successful.