USU Eastern re-branded; without the color gold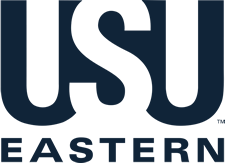 This archived article was written by: Nathaniel Woodward
On Friday, Nov. 6, USU Eastern officials met with faculty where an issue with the university's color scheme was brought up.
The concern over the use of gold in USU Eastern's brand arose from its conflict with the colors of USU's flagship campus in Logan which does not contain the color. Since USU Eastern merged with Utah State University in 2010, it has began to follow the "Penn State system" or a structure where a major central university operates campuses across a state or region.
The uniqueness of USU Eastern, which has largely retained in own identity with sports and mascot, has been antipodal to this system. However as far as the academic and campus branding, it has migrated to conform with the traditional color scheme of USU.
This conformity removes the gold from many established places on campus including the student center's "Golden Grille" and the logo for The Eagle newspaper itself. When this is set to change is not known.
In the meeting, the suggestion was met immediately with criticism from a wide variety of USU Eastern faculty. While nobody was immediately available for comment some comparisons to 1930's Germany were alluded to.
Vice Chancellor Greg Dart was questioned about these rumors and said, "Utah State University Eastern has undertaken a review of all college marks and logos, in an effort to better align with Utah State University in general. That effort has resulted in a new set of logos and word marks. The most significant change that may be noticed is that the institutional college marks no longer contain the color gold. Gold is now being used exclusively in athletics. Those changes were approved by the Executive Cabinet, and were communicated to the campus this fall.
"The question of whether the Eagle logo is changing has not yet been determined. There is ongoing discussion about the depiction of the Eagle. We have worked with a university graphic designer to bring to us new Eagle depictions. As far as gold goes, although it is not being used with institutional branding efforts, it is still being used with athletic branding. As new marks for athletics are proposed and developed, a decision will be made on whether gold will remain a part of the athletic color pallet." 
This story will we updated as more information becomes available. Please visit The Eagle online at www.usueagle.com.