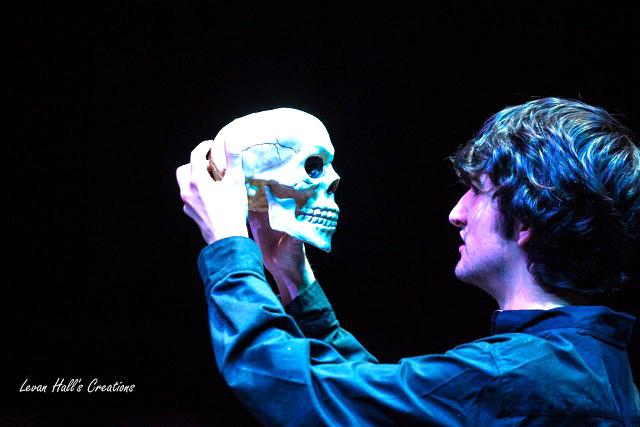 "The plays the thing, wherein I'll catch the conscience of the king". . . or an audience, says Corey Ewan who plays the king in USU Eastern's production of William Shakespeare's "Hamlet" which finishes its run this weekend in the Peterson Black Box Theatre.
This production is historic in that we are presenting the first quarto of the play, which has been deemed "unperformable" by more than a few Shakespeare scholars. We are proving them wrong. Our production features a tour-de-force performance by all members of the cast, Ewan said.
Jarom Brown, director of the production and Shakespearean expert, created a fun approach to the production by keeping the ensemble of actors on-stage throughout the performance, many of them taking on multiple roles, with the adding of a hat here or a scarf there.
Along with recitations of its text, many believe the first publication of Hamlet to be something like a published first draft of the eventual masterpiece. Others believe that it is a pirated transcript of the staged play, Brown said. "Whether it is one or the other or neither, we may never know if there is a method to the madness of the first quarto of Hamlet.
"First published in 1603, it is shorter in length than the version we all know and love, the dialogue is less rhythmically sound and some artistic finesse is simply not there," Brown said.
"I have been more than impressed with our freshman performers," added the USU Eastern theatre professor, "They have certainly exceeded expectations."
Adam Bone, a freshman who graduated from Carbon High School, plays the iconic Hamlet and portrays the infamous tale of brotherly betrayal or the coming of age story of a vengeful prince in an impeccable artistic rendition. "He is really, really good in this role," Ewan said.
Corambis (Polonius) is played by Hollywood actor, Jerry Hoffman, who has hundreds of plays, TV shows and commercials in his resume. Horatio is played by Josh Demie; Tasia Roache played the queen; Josh Bone, Leartes; Veronica Tita, Ofelia; and Chloe Clark, Rossencrast.
This is not your grandmother's Hamlet, it is more like your hot girlfriends' Hamlet, Ewan added.
"As far as our departure from the well-known script, we decided to treat this early version of Hamlet as a stand-along script. To do so, we endeavored to keep the lines, sequencing and character names as originally published in the 1603 quarto," director Brown said.
Brown encourages Shakespeare enthusiasts to take special note of the differences they see and hear and observe the possible developments the author might have made while revising from one text to the other, Brown said.
Performances are Thursday, Friday and Saturday, Dec. 10-12, at 7:30 p.m. in the Peterson Theatre in the CIB. Seating is limited in the theatre so the director advises to get there early.