Eastern presents "Rabbit Hole"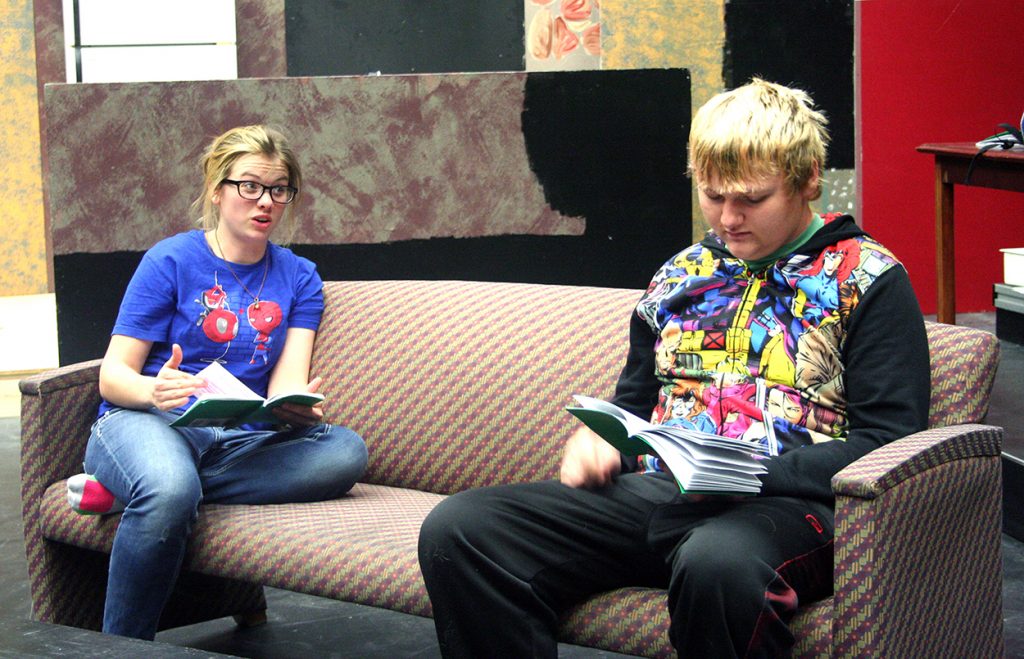 Rabbit Hole, the 2007 Pulitzer Prize winning drama by David Lyndsay-Abaire is USU Eastern's third production for the 2015-2016 theatre season. The show was cast in December and feature new faces on the Peterson Blackbox Theatre stage.
Rabbit Hole tells the story of Howie and Becca Corbett, a young couple coming to terms with the death of their 4-year old son. The story picks up eight months after the accident as they are confronted with family situations and the presence of a grieving teen also struggling with the aftrmath of the accident.
Although the subject matter is serious, there is humor interspersed throughout. "This particular play has been on my radar for years and this was the year it felt right to direct it," director Corey Ewan said.
"I am very excited to begin work on this piece and with this cast," Ewan added. The cast includes; Cameron West, Juab High School as Howie, plus newcomer Whitney Humphries, Fillmore High School, as Becca, his wife.
Tavery Larsen, Carbon High School, plays Nat, Becca's mother and Veronica Tita, Maple Mountain High School, plays Izzy, Becca's sister. Tristan Smith, Carbon High School, rounds out the cast as Jason.
This is a great group of actors and they are ready to jump into the deep end of the pool with this production. Rabbit Hole does contain mature themes and language.
"If I were to assign a movie rating I would give it a PG-13. I know some people need that to determine quality," Ewan said. "Anyone who has experienced loss and grief will be readily able, I think, to identify with the thoughts and feelings expressed in this play.
Rabbit Hole opens Feb. 18-20 with a matinee at 2 p.m. on the 20. It also runs Feb. 25-27. Curtain times are 7:30 p.m. Tickets go on sale at 6:30 p.m. at the Peterson theatre each night.
USUE students get in for $1 with current ID, faculty and staff are $5. Regular admission is $10 for adults, $5 for non-USUE students and $7 for senior citizens.
"This is an exceptional piece of theatre and one truly not to be missed," Ewan said.