The Eagles are 17-12 with one game remaining until the region tournament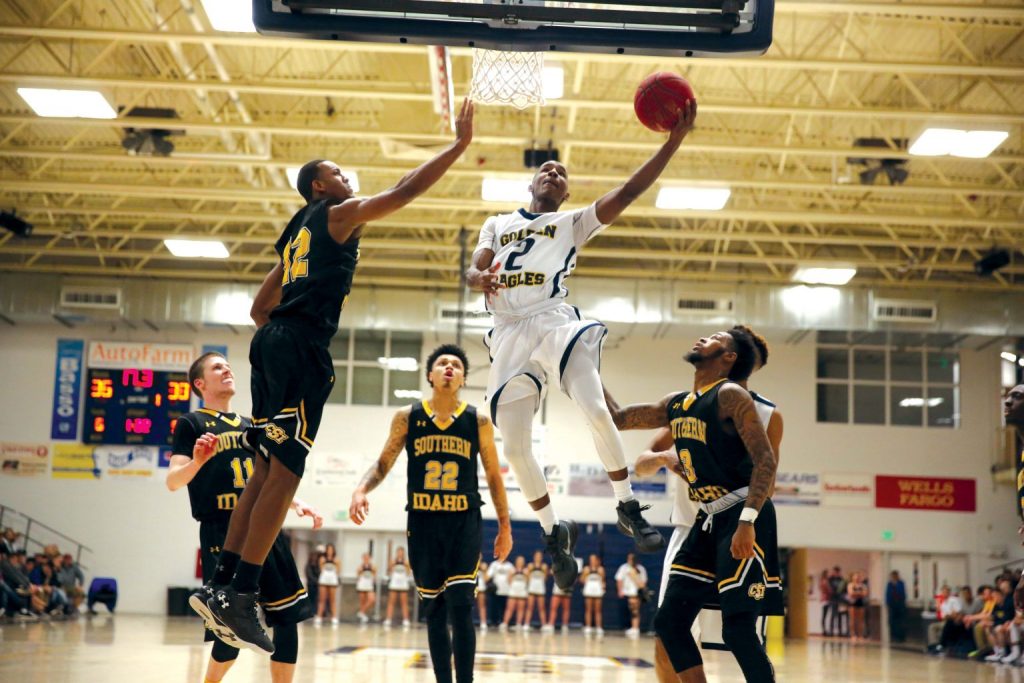 This archived article was written by: Brett Smart
Where the USU Eastern men's basketball team has eight players, most teams double that. These eight-young men managed an almost unpredictable turnaround in their recent games against the College of Southern Idaho, Snow College and North Idaho College, the third -ranked team in the nation.
Eastern's men's basketball team brought their "A" game to Snow College on Feb. 6, nearly doubling the Badger's score in the first half 27-45.
The Eagles maintained this lead, taking a win from the Badgers' home turf. Brandon Sly led the game in total points, scoring 28 in all.
"The Golden Eagles have character, they are focused, and they try to represent the school the best they can," Said Adjalma "Vando" Bacheli, head basketball coach. The Eagles had lost to Snow on the road and at home earlier in the season.
The Golden Eagles prove this in their game against CSI, Bringing their game to an "A+" level all the way through, but never giving up. The score at halftime was 38-39 with CSI in the lead. Eastern came back after halftime, they never let up.
The score was tied 78-78 at the end of the second half, the intensity of the first overtime was overwhelming. Both teams scoring 11 points with the score now at 89-89 going into double overtime.
Gameplay in the second overtime was similar, with both teams trying to out-perform one another offensively.
In the final seconds, the Golden Eagles would be down by two with the ball. Philip Winston, who played 50 minutes, scored the three-point shot to win the game 101-100.
"Philip is one of our captains, He's a great young man and a hard working leader," said Vando.
Unfortunately, Sly suffered a concussion during the game from a fall and was unable to play against North Idaho College later that week. The Golden Eagles took a 110-75 loss.
Alexander Morrell and Solomon Rolls-Tyson stepped up in the game against NIC. They both scored 21 points, proving the Golden Eagles still have a competitive mindset even when they fall short a player. "Our players truly believe they can compete," commented Vando.
The Eagles will play against Colorado Northwestern Community College on Feb. 20, at 5 p.m. in the Bunnell-Dmetrich Athletic Center.
It is unknown whether Sly will play. His absence will most certainly be felt by his teammates. "It won't be easy, but they have what it takes," stated Vando.
The Eagles plan to have Sly back in shape before the conference championships on Feb. 25, where they will play against Snow in the first round. "This will be our peak, and we are going to give everything we have to win," Vando said.