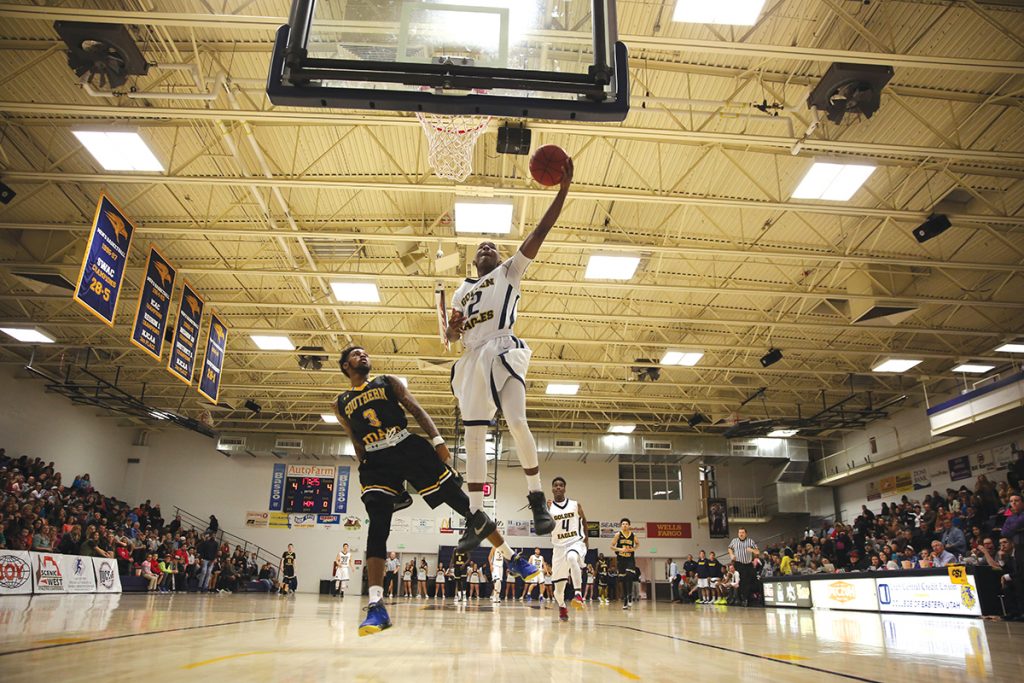 This archived article was written by: Brett Smart
The Utah State University Eagles ended their season on Feb. 26, after losing their final game against Snow College at the Conference Tournament in Twin Falls, Idaho. The Eagles entered the tournament coming off of a big win against Colorado Northwestern Community College with high hopes.
The Eagles played a better game than ever on sophomore night against the Spartans. They took the lead right from the start and never let up. Even with Brandon Sly absent, the Eagles steamrolled CNCC. Philip Winston stepped up to the occasion and scored 20 points and grabbed 10 rebounds.
The Golden Eagles would move on to the conference tournament as the number five seed. A single-elimination event, the Eagles would play Snow College for their first game. The game didn't go as well as some would have hoped. That doesn't mean some players didn't give it everything they had. Sly made the most offensive contributions, scoring 32 points of the team's 87. Winston totaled nine rebounds throughout the game and scored 22 points. "Sly and Winston work hard for this team, and have earned whatever position they get on another team next year," said Coach Adjalma "Vando" Becheli. The final score of the game was 87-103.
Snow would move to the semi-finals, where they would lose a tight game to North Idaho College 77-73, leaving the Badgers out to dry. The game wasn't originally so close with NIC having a 20 point lead with 10 minutes left.
NIC put their starters on the bench. The change caused Snow to close the gap with minutes left in the game. NIC had to send their starters back in, but Snow already had the momentum needed to maintain a close score. NIC still managed to get the win.
The championship game came down between NIC and Salt Lake Community College. SLCC beat everyone pretty handily in the tournament. Beating CNCC 98-56 and College of Southern Idaho 82-60 in the semi-final round.
They would do the same in the championship game against NIC, winning the SWAC title 86-73. "They're both great teams. I would have thought NIC would win, having the best record… I can't put myself into their minds, but they may have been content with already going to nationals," Vando said.
The Eagles are only bringing back two players for sure next season. Tevin Farris and Alexander Morrell. "They're inspired players that I look forward to working with next year," Vando stated.
This should mean that USU Eastern is going to have a big recruiting year in the off-season. Bringing in both freshmen and sophomores. Vando said, "We're going to have a good mix between freshmen and sophomores next year and I like that."
This year our sophomores have not yet decided what their next step is in their career, whether to go into D1 or not. "This is a big time for them and it is always fun to watch them get what they've worked for here," commented Vando.
The USU Eastern men's basketball team is getting ready for their next season, by keeping their own two-year athletes and recruiting those in positions needed. Sophomores Sly, Winston, Solomon Rolls-Tyson, Hamdi Karoui, and Austin Anderson will be exiting the program.