Cooking with Toby: making salsas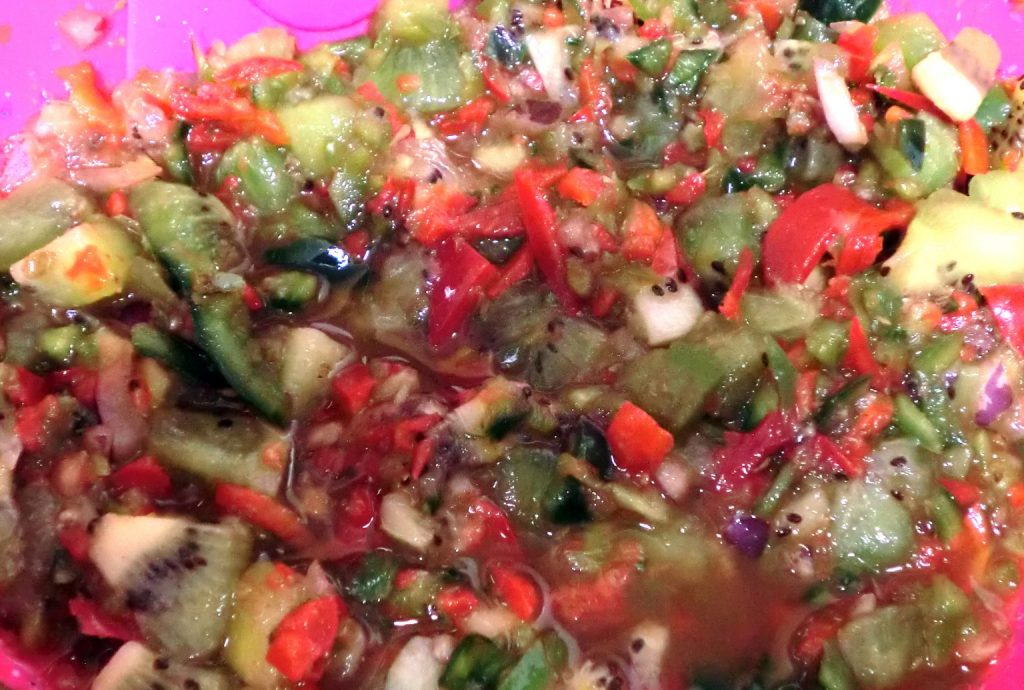 This archived article was written by: Toby Foster
I really should stop biting off more than I can chew, but this is a project that spoke to me. At my work, we just got a new item that requires us to put pineapple salsa on it and I don't like pineapple and haven't tried it, but all the other workers say it's not the best work corporate has put out. So all things salsa have been on my mind.
Let's start with the base. A salsa is traditionally made using crushed ingredients so it comes out soupy. There are innumerable variations so this will not always hold true with what you find in the store or make yourself.
Most people like to use a food processor or blender instead of crushing their ingredients, which is perfectly okay, but this makes keeping the consistency true to salsa and not more of a hot sauce, tricky. The solution is to pulse it as you make it. This gives the larger chunks time to settle to the bottom so they will be chopped up instead of the smaller bits that have already been reduced to the right size.
If you want to leave everything in larger chunks, I recommend a Pico de Gallo. When you make Pico, everything is cubed and the balance between base flavors and the onions and peppers leans more heavily on the peppers and onions.
The base flavor of salsa is usually tomatoes, however I have seen tomatillos, mangoes, pineapples, and even the buds of the cholla cactus used as such. Each adds dimension to the taste and needs to be balanced properly. Some of the sweeter ones like mango you will want to go light on the onion and garlic, but use herbs like parsley to compliment. Some of the softer fleshed bases you may want to avoid blending since they will become a puree too quickly.
Onions are an important flavor to use and to know more about. Your golden onion is the most commonly used because it is right in the middle between sweet and sharp. If you are looking for a harsher flavor, the white onion gives you just that and Vidalia onions takes you in the opposite direction and offers a sweeter alternative. Green onions have a fresh spring flavor and red onions have a mild flavor without becoming overly sweet.
When you go to look at peppers, you really need to know what you can handle. No matter what pepper you talk about, the seeds and veins add heat. If you gut a habanero pepper properly, the heat is bearable to most people.
That said, we will start at the bottom and work out way up, all bell peppers have no spice. They are sweet. An Anaheim chili is extremely mild and has a sweet and tangy flavor. Next up are poblanos. Still pretty mild, but not as sweet, their flavor is rich yet earthy. Jalapenos are the most common pepper used in the states and they are somewhat hot and have a tart flavor. Serrano peppers are my favorite with a good amount of heat to them and a smooth smoky flavor. They offer a lot of potential to most salsas. Habanero peppers are pretty infamous for their heat but have a surprisingly citrusy flavor.
Seasoning a salsa is really up in the air. Most salsas need some salt and pepper but beyond that anything goes if you look for the right flavor combos. Cilantro it the most commonly used herb and lime juice is often used to accent.
This brings us to my kiwi salsa. A friend of mine, when I asked if she would call me crazy for making this, said, "I would call you crazy as I reached for the tortilla chips." I went for a recipe more for the masses, rather than my personal tastes. If you want your batch hotter like I do, you can either skip gutting the peppers or replace the bell pepper with three habeneros. This can be served as a dip or as a topping for fish or poultry. Either way, buen provecho!
1 red bell pepper
2 jalapenos
1 poblano
¼ cup chopped red onion
5-7 Kiwis
¼ tsp sea salt
1 ½ tbsp honey
1 tsp oregano
Remove stems, veins & seeds from the peppers. Pulse in a blender/food processor until chopped. Pour into a bowl with the onion. Peel & cube the kiwis, then add to the bowl. Add salt, honey & oregano. Allow to sit at least 5 minutes before serving.