Playing baseball since 5: Trevor Clingman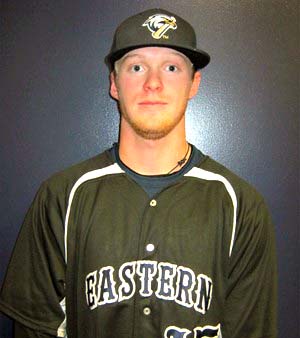 This archived article was written by: Taina Soranzo
A Utah native joins Eastern's baseball team to play with his twin brother who was already a member of the baseball program.
Trevor Clingman was born in Stansbury Park, Utah. He lived in Tooele County since he was 4 years old and started playing baseball when he was 5 years old.
Before Clingman came to Utah State University Eastern he went to two different schools: Colorado Northwestern Community College and Victor Valley College, in California. In both schools he played baseball, but got injured both years.
Clingman decided to come to USUE to stay closer to his family. He played against USUE's baseball assistant coach, Matt Goshis, in high school and college level. He came for a visit and got the opportunity to play with his twin brother.
He believes, "This year has been a pretty good year. I feel like it might not seem that way on paper right now, but really as a team we have gotten better and better every weekend.
"I feel like we haven't quite played to our full potential yet, but once we piece it all together, we will be a top contender in this very competitive conference."
Clingman expects his team, "to finish in the top half of the conference and go into the conference tournament as a team that could beat any of the other teams."
He also has personal goals for this season. "I have goals to finish with a batting average above .300 and beyond that, just to be a leader who does so by example on and off the field.
"As a catcher, I have a goal every week to go out and call a good game and make whatever pitcher I am catching feel comfortable so they can pitch to the best of their abilities," he said.
After he graduates from USUE, "I will be hanging up the cleats and finishing my bachelor's degree at the University of Utah or at Utah State University."
"If another school showed interest in my brother and I, we would love to continue playing ball, especially with each other as teammates. We have been playing together since we were 5, so if the opportunity to continue playing at the college level was presented, I'm sure we would take it."
The overall record of Eastern's baseball team is 9-19 and 4-8 in the Scenic West Athletic Conference.