Austin Guertsen: wants to be the best he can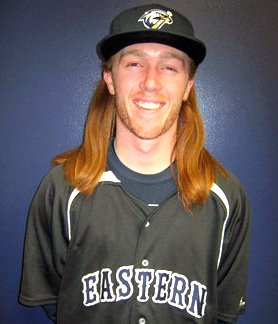 This archived article was written by: Tainá Soranzo
A touching story of a Utah native, doing what he loves for the ones he loves.
Geurtsen is a sophomore playing on USU Eastern's baseball team. He started playing baseball when he was 2 years old. He never played any other sports.
"My parents bought me my first baseball bat, baseball, and glove at that time. From that moment, I fell in love with this beautiful game. From then on I played on a lot of travel teams and have been all across the United States playing games in New York, Georgia, California, Colorado, and Arizona."
In high school, playing for Juan Diego Catholic High School, he won state championship three times. He was first team all-state his junior and senior year.
Guertsen decided to come to USUE because he knew the Scenic Athletic Conference is one of the best baseball conferences, so it would be a great opportunity to play college baseball and continue his education in a high level.
He is very pleased about how Eastern's baseball team is doing this season. "We struggled out of the gates at the beginning of the season, but we have got better every week.
"I think it's awesome to watch us progress as individuals and as a team. We are really starting to peak as a team right now in conference play.
"When we come together as a team we have an opportunity to beat anybody in our conference. We just need to continue to work hard and get better every day."
Guertsen is not sure of what he will be doing next year, but would really love to keep playing baseball in a four-year school and finish his education.
Geurtsen's goals for this season are to be the best person he can be to help his teammates and his team win, whether on or off the field.
He looks up to a lot of people but, "The two most important people I look up to are my parents. Without the both of them, I wouldn't be anywhere close to where I am today or the person I am today.
"They have made tremendous sacrifices to get me to where I am today. Rain or shine, cold or warm, home game or hundreds of miles away my parents are always in the stands and without that support I don't know where I would be. Nothing is better than knowing they will be there no matter if I play good or bad. I love them more than they will ever know.
"I also look up to my teammates because they push me to be better every day. It's more of a group of brothers than teammates. I feel that the relationship we have built can't be replaced. I love every one of them and wouldn't trade them for any other group of guys.
"I just want to get on base and help this team win. Baseball isn't really about the individual awards, but more about the team. I just want to continue to help this team win games and do whatever I can to help," Geurtsen said.
There is a story behind his long hair and his pink-batting gloves that will make you think twice before you judge him.
"My best friend's mom passed away from breast cancer during the summer after I graduated from high school and she was basically like my second mom. From that point on, I wanted to play every game for her. So I wear pink batting gloves with her initials on it in her memory.
"Also we both planned on growing our hair out and to eventually donate it in her memory as well," he said.
Geurtsen has one of the top-batting averages on the team, but for him that does not mean much because he believes there is always room for improvement.