Cooking with Toby: making a leek cheese pie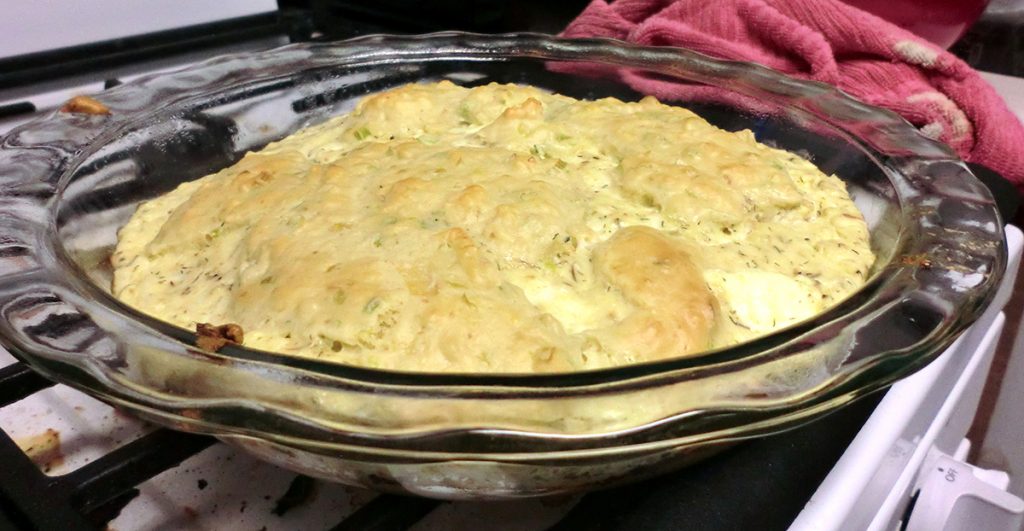 This archived article was written by: Toby Foster
Leek cheese pie is something that I had never heard of until I bought my new cook book. It caught my attention because I had not even tried leeks until last year and was surprised that I liked them.
Leek cheese pie is a traditional Irish breakfast item, but to an American, the flavor is more of a dinner side-dish or a mid-day snack. It is a savory pie with a crumbly crust rather than a flaky crust. The texture is created because the leeks are in the crust rather than part of the filling.
I have not had the opportunity to work with any recipes that have a fruit or vegetable in a crust, so I don't know what it does to a crust when you add different things like this to it.
The filling is easy to make and could potentially be modified into several dessert fillings by blending fruit and honey or caramel into it and replacing the seasonings with ginger and nutmeg. If you want to do this, make a double batch and just use pre-made piecrust.
The filling can have several different vegetables added to it. The original recipe I found called for carrots and some that I have found have called for sweet potato, onion, sautéed bell peppers or cabbage. Others call for bacon, sausage or ham to add some protein to the filling.
If you feel bad about throwing out the egg yolks, like I do, you can make some hollandaise or béarnaise sauce with them. All it takes is butter, lemon juice and salt and pepper to turn them into hollandaise and replace the lemon juice with white wine vinegar to make a béarnaise sauce.
When you prepare a leek to cook, always wash it. Leeks are dug up whole so the roots are still attached and there is no guarantee that it was ever washed properly. The edible part of a leek extends from just above the roots up to where the first leaf separates from the rest. Beyond this point the leek becomes woody and flavorless.
1 leek
½ tbsp garlic
1 cup flour
2 tsp baking powder
2 eggs
2 egg whites
¼ cup milk
2 tbsp cooking oil
¼ cup softened cream cheese
12 oz drained cottage cheese
2 tbsp bread crumbs
1 tbsp parsley
1 tbsp dill
¼ tsp black pepper
¼ tsp salt
Pre-heat oven to 325. Thinly slice the leek then boil in water with the garlic until tender. Meanwhile, combine flour and baking powder in a medium bowl. Once the leek is cooked, strain it and stir it into the flour mixture along with one egg, one egg white, milk and oil and mix until almost smooth. Spread half of the batter on the bottom of a pie pan and bake for 20 to 22 minutes or until the crust begins to brown. Meanwhile in another bowl combine the remaining ingredients and mix until well blended. When crust is removed from the oven spread the filling over it and then top with the remaining batter. Return to the oven for 40 to 45 minutes or until golden brown. Let stand for 10 minutes before serving.