Josi Russell discusses her life as an author/teacher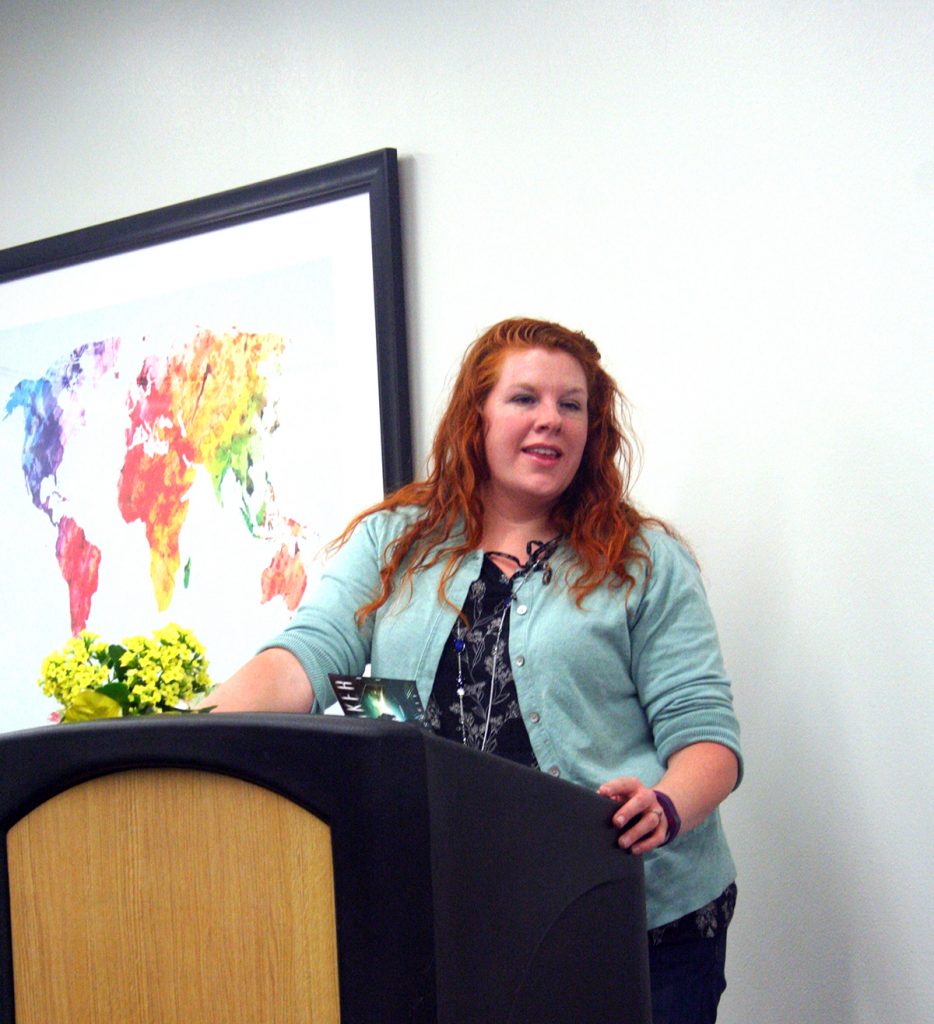 This archived article was written by: Emilee Merrill
Inspriation to write using experiences was one of the thoughts' behind Josi Russell's visit to campus on March 24.
An English teacher at USUE in Blanding and writer, Russell introduced and promoted her books, "Caretaker," and "Guardian," to professors and students, plus related her experience as a writer.
A native to Blanding, Russell always enjoyed the written language. As a child she dabbled in the idea of becoming a writer, but as she got older and started going to college, she decided to go into pre-medical instead.
As part of her school, she decided to study abroad in London. While there, her love of English and the written word intensified. So much so that when she returned to the United States, she switched her major to English.
After years of studying, Russell graduated from college with her bachelor's degree in English. She started teaching and 10 years ago, accepted an English position at USUE Blanding.
Russell says she really loves being a teacher and helping students develop a love for English literature. She also says that everyone is a writer, no matter who they are. Even something as simple as writing an English paper is a way of expressing yourself and being a writer.
Russell has been writing for almost as long as she has been a professor as USUE Blanding. She started her first book, "Caretaker," eight years ago and it took her a year and a half to finish it. Her second book, "Guardian," is the sequel to, "Caretaker," and took her eight months to write.
These books are about a man who has to take on a difficult task, that he has no idea how to do. The story opens with him on a ship traveling to a distant planet for relocation. He is not the only one on the ship either. There are hundreds of people in a deep sleep for 53 years, or until they arrive at the new planet.
He is supposed to be asleep as well, but before he was put to sleep, the "Caretaker," died suddenly. As a result, he was suddenly the only human awake to take care of the ship and everyone else. Only six years into the 53-year journey, a female suddenly wakes up.
To know the remainder of the story, you'll have to read the book.
Russell mentioned how much of her inspiration for her book comes from her travels with her family. She related a story of how they, she and her family, went to Carnie, Neb., to see the migration of five-million Sand Hill Cranes. She said it was an amazing experience and would recommend to anyone to do the same. "Travel is vital, but it does not have to be expensive or fancy" and that, "experiences can happen anywhere."
Russell loves the written language. Some of her favorite authors include: Charles Dickens, Olsen Scott Card, H.G. Wells, Marks, Hemmingway, and more.