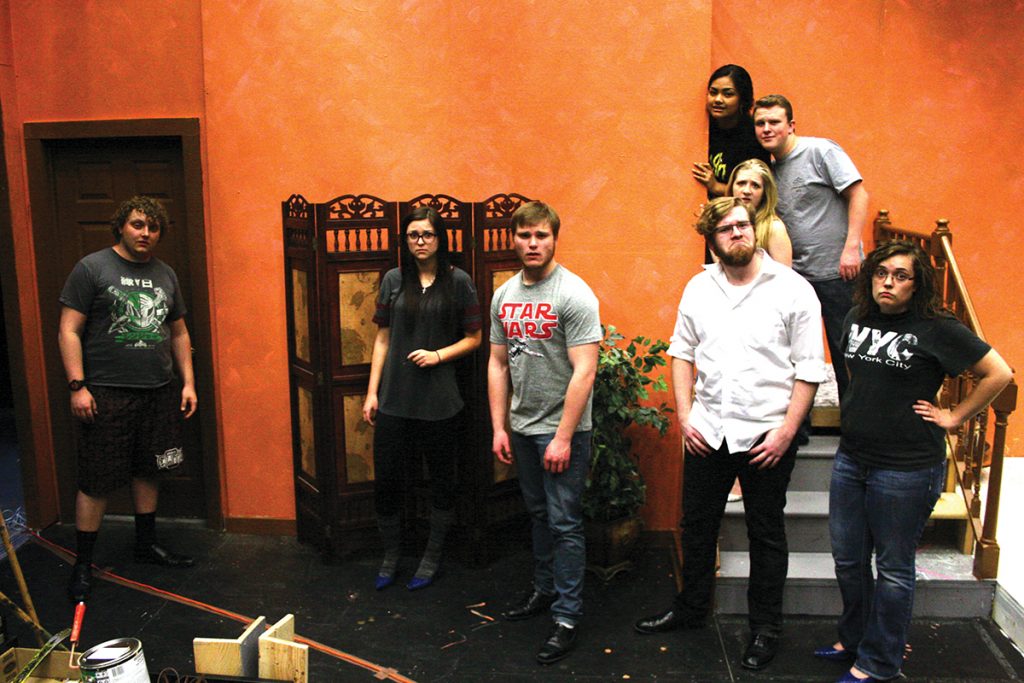 This archived article was written by: Donald Corwin
If you've walked through the Central Instructional Building on any weeknight the past few weeks, you might have wondered what kind of party has been going on in the Peterson Black Box. No need to file a noise complaint, as the elevating shouts, colorful language and boisterous laughter are all part of the process of rehearsing a Neil Simon farce, as the cast of USUE's Rumors has been figuring out for the last three weeks.
The rehearsal process for any show comes with its own set of benefits and difficulties, but there is something uniquely challenging for both actors and directors about preparing for a high-energy farce. Amid the door-slamming and knock-about fun seen in a show like Rumors, there are some technical aspects that add a whole different set of steps to getting a comedy to opening night.
"Helping the actors find the timing and understand what's going on is probably the biggest challenge in a farce. For the actors, it's all the running up and down that can be hard, and having the energy and stamina to do what they're doing," director Corey Ewan says, joking that it's the actors themselves that make up the difficulty. "A lot of actors don't like to do their research for the show, so I have to push them to do that so they get a better understanding."
Though challenges are a part of the process, there is also a lot of fun learning experiences to be had on stage, and the cast of Rumors has a lot to take from the show so far.
Brayden Summers, who plays IRS agent and fellow party-goer Leonard Ganz, opens up about some of the more difficult aspects of the show. "Comedy is my strong suit, but this show has really pushed me as an actor. It really has been a blast."
"I have loved being in a farce, but it has been a major challenge," adds Josh Demie, who plays lawyer Ken Gorman. "I am better at drama than I am at comedy, so getting my timing down has been difficult."
Chloe Clarke, Demie's real-life fiancée, plays his wife Chris in the show, and both have loved acting alongside their significant other. Clark is also enjoying the spontaneity and excitement of the show, as new notes and tactics can be gathered after each rehearsal and read-through. She is also excited to see what the audience thinks of the show, saying "they should expect a lot of humor and fast-paced comedy, this show will keep you laughing from beginning to end."
Cheryl Uvia'a, who plays Claire Ganz, is also enjoying the fast-paced elements of the show, and a lot of her enjoyment comes from the character she portrays. "My favorite part about portraying Claire is how funny and dumb she is. I share some similarity with Claire, we are both slow at picking up things. Everything goes over our heads," Uvia'a laughs, explaining the raucous nature of the characters in this show. Essentially, most of the 10 characters featured in the show are exaggerated, gigantic personality's that show both moments of child-like immaturity, glimmering brilliance and hilarious stupidity. It's a dynamic that certainly makes for an interesting show.
So there you have it, we know the actors have been enjoying themselves these past few weeks and enjoying the hilarity of the show, but are they ready for opening night just one week from today? If you ask their director, that's mostly up to them. "Right now it's in the hands of the actors," Ewan says. "They need to memorize. Once that happens, the show moves very quickly and they start hitting all the humor without realizing it."
While it's been a long and arduous process these past few weeks, Ewan believes his actors are starting to get more comfortable with the script and hopes they keep working hard. "I think the actors are starting to find some fun things within their characters, and that's great. They're starting to bring more to the table so I don't have to spoon-feed them, which is something I appreciate as a director." If Ewan's prognosis is correct, the actors will have a show to put on when April 14 rolls around, assuming they work at it.
Ready or not, the doors will open in the Peterson Black Box one week from today. Running the 14-16 and the 21-23, students, faculty, and community members will have six opportunities to see the boisterous fun that comes along with a Neil Simon farce.