The blessing of the game of basketball, forever Golden Eagles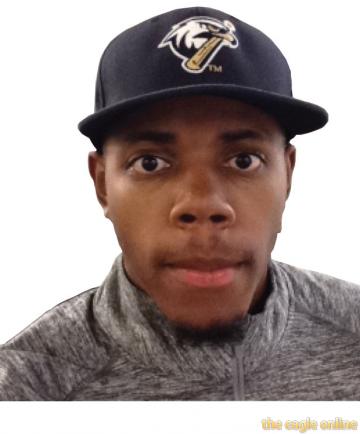 This archived article was written by: EJ Sanders Jr.
2015-16 has been an amazing year of basketball from the adversity overcome by a band brothers of the USU Eastern program to the local high school, the Carbon Dinos season improving from prior season finishing the year with a winning percentage of .500. However, let's not neglect to recognize SLCC taking the JUCO national championship. The Utah Utes and Weber State Wildcats with their bids into the NCAA tournament and the Brigham Young Cougars with their invite into the National Invitational Tournament, who had an amazing run to the final four.
March Madness has officially ended with millions of busted brackets all over the world and fans who watched their favorite program, praying for them to bring a championship back to campus. As a fan of collegiate basketball, the national championship game was one for the books, historic to say the least.
The most intense 12-seconds of competition I've witnessed in a long-time, every second watched was worth it. A clutch three by North Carolina's Marcus Paige to tie the game with five-seconds remaining, only for Villanova's Kris Jenkin's buzzer-beating 3 to bring home a national championship to Radnor Township.
With college basketball officially wrapped up for the season, it's time for players and coaches all over the United States to prepare for the off-season and pre-season which is in a few months.
However, before we start back up the excitement, national signing day is quickly approaching and this when the teams who fell short will replace their seniors, load their rosters with new young talent and prepare for a season of preparation to make a run in March Madness 2017.
As coaches search for pieces to the puzzle or the dime in a dozen, USU Eastern has six hungry and motivated sophomores: Phil Winston, Brandon Sly, Solomon Rolls-Tyson, Lamont Walker, Hamdi Karoui and Austin Andersen who patiently wait for their opportunity to continue their careers at the next level and become the next faces of March Madness basketball.
All that's left to say is, what a year of basketball for Utah and the nation as March Madness once again didn't fail to have everyone worldwide frustrated with disbelief and envy. We are always in awe of small teams making their presence known. At the end of the day, titling the best college basketball program in the nation for 2016.
For USU Eastern basketball, it was a rough year from the jump and they continued to get tougher, but through that adversity it took a once team of 18-men and developed a band of seven brothers. They showed it's not about the amount of men who you have to fight, but the men you have willing to fight until the end. When hardship continued to strike, it was hard, but they understood that life is tough but as long as you continue to fight, you'll forever be tougher and that was the key to the success they experienced this year.
In my eyes, there is no one tougher than these guys because they took loses, but never stopped fighting and understood to succeed it took a band of brothers and not a fleet of men. I truly believe these sophomores are ready to leave their impact and experiences here behind them. They take that experience to the next level and impact their future team as they did as a Golden Eagle.
Soon to be gone, but a season to remember, forever-brothers and forever Golden Eagles.