Fantasy hair created by cosmetology students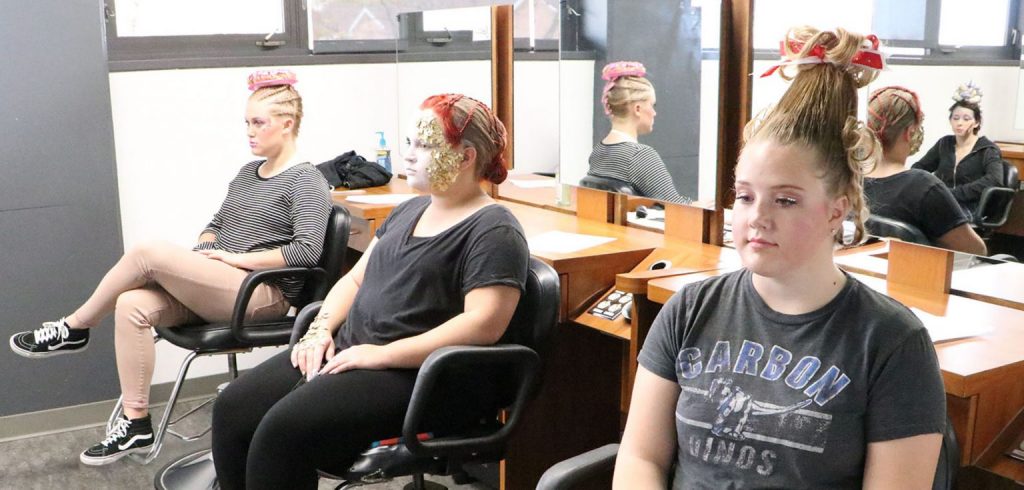 Crazy hair day is one of the favorite days for students growing up in elementary school. At Utah State University Eastern, crazy hair is stepped up several notches as high school and college cosmetology students try to create the craziest hair styles to be judged by professionals in the field.
"This is one of our most fun days for our students," said Debbie Prichard, associate professor of cosmetology. "They use all their skills they learned in their classes and create a work of art in hair, makeup and nails. They choose a theme and design a hair style to compliment that theme. The accessories in the hair and makeup all contribute to the total theme the students created."
High school students are judged against other high school students and college students are judged against other college students to keep the contest on a level-playing field.
The high school winner was Indie Garnder from Helper, second place went to Cherish Vigil from Price and third place went to Christina Rodriguez from Price. The best fantasy hair theme was won by Sandie Waller of Wellington, most creative was Megan Campbell of Price and best make up went to Hailey Hart of Price
The college winners included first place to Emma Howard from Vernal; second place to McKenzie Miller from Boise, Idaho; and third place to Maralyn Hase from Salt Lake City.
Students from Price won all the other awards. Cortnee Thompson was named the winner of the most creative hair; Charity Noone, best fantasy hair, Shaylee Allred, best nails and Aarika Flores, the judge's choice award. Each winner received a certificate and styling products.