Five place in competition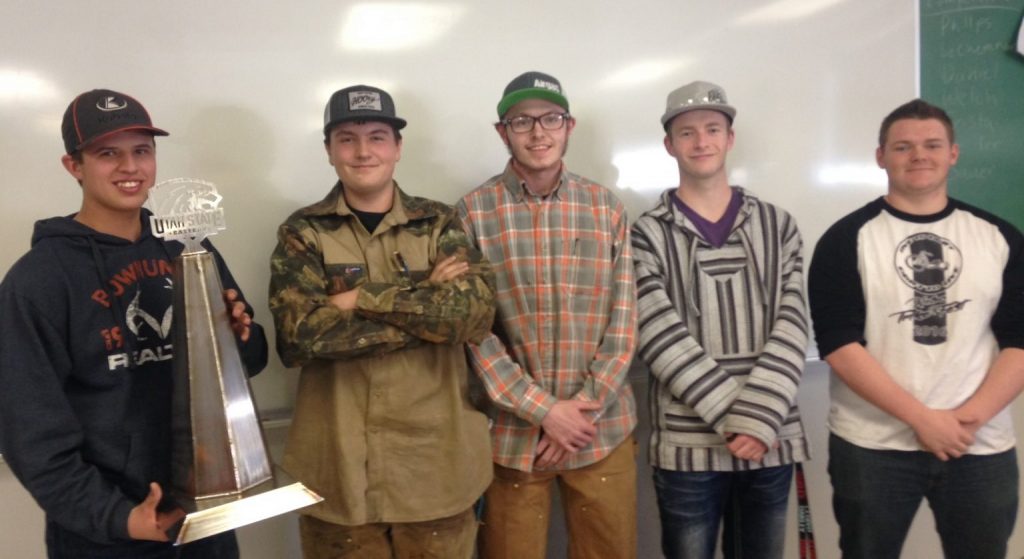 High school welders from across the state converged on USU Eastern's welding shop last week to compete in its second annual Invitational Welding Competition. 
 Over 20 students completed the contest that was designed, prepared and judged by Eastern's SkillsUSA student members, under the supervision of instructor Austin Welch.
 In his second year in the competition, Jordan Wynn, representing the UBATC in Roosevelt, earned first place. He received a scholarship offer, auto-darkening welding hood and other cool welding gear.  Last year he earned second place behind USU Eastern's Chandler Vincent who recently was named one of the top three welders in the nation.
The trophy Wynn received is a traveling trophy designed by Josh Shoemaker and fabricated from titanium, welded by Vincent and instructor Mason Winters.
 The UBATC in Vernal had the next two winners: Cole Redding won second place with Benche't Kenney winning third.  Scholarship offers were also extended to Redding and Kenney.
 Maple Mountain High School had the fourth- and fifth-place winners: Jace Baird and McCade Lee, respectively.  All the winners were awarded welding gear from local suppliers Fastenal and U.S. Welding.   
 "It is a lot of fun to see these young welders compete and were pleasantly surprised at the overall high performance," welding instructor Lon Youngberg said.