USU "I WILL" pledge on sexual assault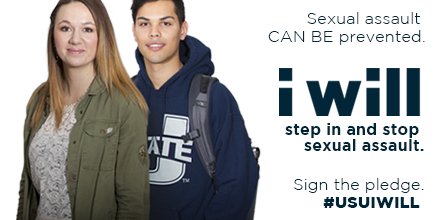 This archived article was written by: Angelique Lokeni
Statistics show that one in every five women and one in every 16 men are sexually assaulted while in college, and often 90 percent of sexual assault victims on college campuses do not report the assault. There are many more statistics about rape survivors, but what about those who are bystanders?
In the past year, we have seen cases such as Brock Turner's, where a rapist was apprehended and victims were able to see some justice being brought to their attackers thanks to bystanders who stepped in. Closer to home, we have also seen news of charges against former students as well as convictions of students for rape at Utah State University.
Though Utah State has a policy against sexual assault and harassment, administration felt that they needed to do more to help make students more aware of the issue on campus, as well as prevent sexual assault, so last week an email was sent out by USU President Noelle Cockett.
The email describes what Utah State is calling the "I Will" pledge and also gives students a link to sign the pledge online. The pledge basically says that students who sign are making a commitment to step in when they see situations where consent to sexual relationships is not or cannot be given. Cockett states in the email that the pledge's purpose is to put more responsibility on those who may be potential bystanders to sexual assault to take action, intervene and potentially prevent sexual assault from happening.
In addition to making the commitment to intervene, the "I Will" pledge also says that students signing the pledge will not tolerate jokes or behavior that perpetuates sexual assault, will not assume that someone else will step in and stop sexual assault, and that they will believe and help survivors.
Although the email was intended to be sent to all USU and USU Eastern students, many did not receive the email and are unaware of the pledge. Also, the pledge is not just for students. Faculty, staff, alumni, family and friends of USU students can also sign the pledge. For more information, visit usu.edu/sexual-assault, and sign the pledge.