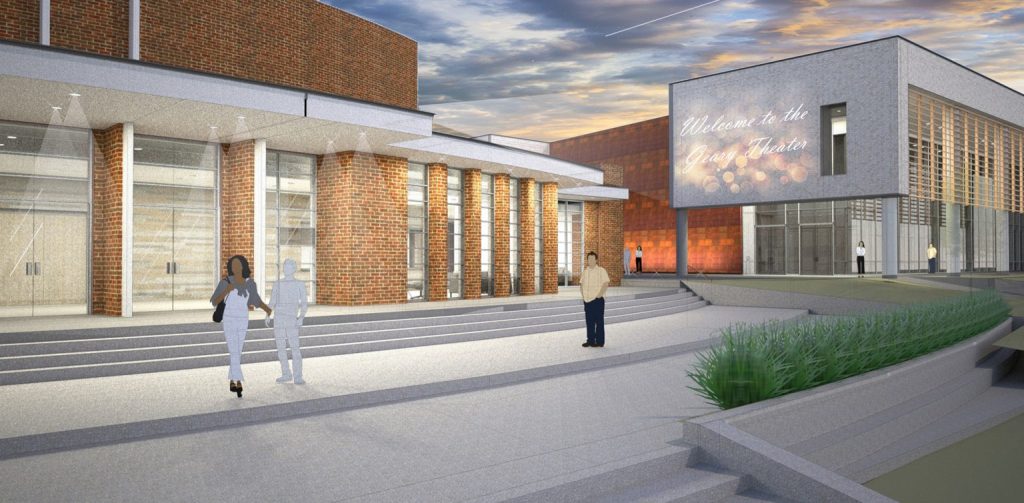 This archived article was written by: Austin Fietkau
After two years and nearly $6 million in renovations, the Geary Theater is almost complete in its transformation to the new and improved Geary Event Center. Though the 1960's structure hasn't been altered much on the outside, inside awaits a whole new world of technology.
Historically, the building has been used for all sorts of events ranging from theatrical and dance performances to concerts and lectures. However, after determining that its previous name suggested limitations in its use, it will now be called the Geary Event Center. "We want it to be clear that it can be used for all kinds of things," Chancellor Joe Peterson said, "and we've put a lot of time and effort into making it suitable for all intents and purposes."
"One of the biggest things that limits a space in its use is its acoustics," Peterson said, "so we've hired a team of acoustic engineers to design the new theater in a way that will allow a lot of customization for not only varying audience sizes, but also for different types of performances."
The new design will feature what Peterson refers to as a "cloud system" which involves a uniquely shaped wall and ceiling scheme, created to maximize sound travel and quality. Drapes, which are commonly used for sound absorption, are in place all over the room for sound customization. The drapes can be opened or closed according what sound effect will be most suitable for a given event.
Chief Architect Shawn Benjamin says the building's versatility is one of his favorite aspects of the remodel, and hopes it will have far reaching effects. "My hope is that will help connect the community to the college and the college to the community in a more profound way than ever before," Benjamin said.
In addition to these, countless other changes are underway; including new "fancy-pants" seating, ticket booths, plumbing, electrical systems, bathrooms, heating, air-conditioning, and even lighting. Essentially, all that will remain of the old, 1961 Geary Theater is its exterior structure.
The Geary Event Center, which is expected to be complete by November 2017, will be utilized by campus and community members. Theatrical performances put on by Utah State University Eastern will be performed both in the new center, as well as the black box theater in the Central Instructional Building.
We're excited to have more space, said Brent Innes, associate professor at USUE. With more space will come more flexibility and even better performances.