"Funny Thing Happened on the Way to the Forum" opens this week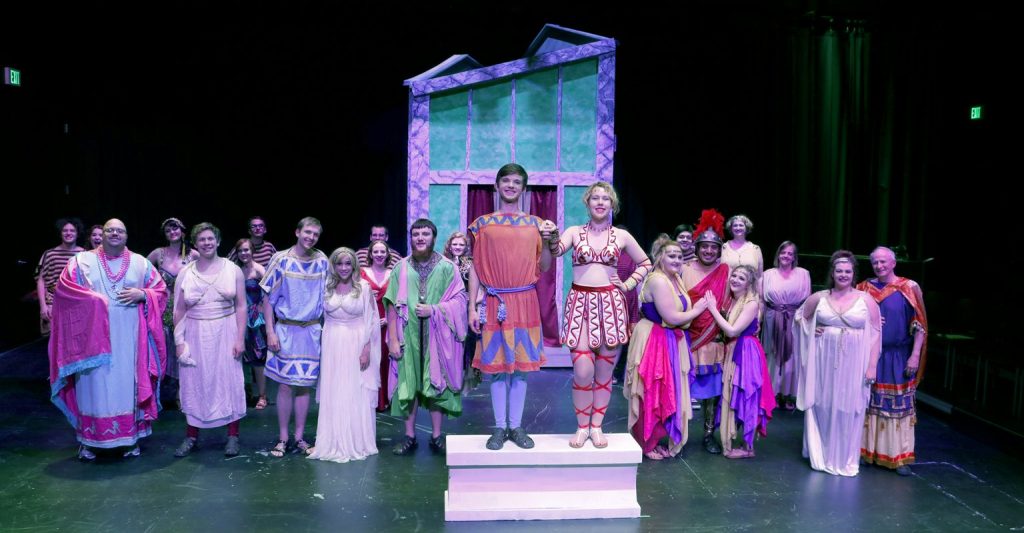 A comic masterpiece of clever disguises, quick wordplay and delightful music is USU Eastern Theatre's final show of the year. The play, "A Funny Thing Happened on the Way to the Forum," opens April 20 and runs for two weeks.
Inspired by the farces of the ancient Roman playwright Plautus (251–183 BC), specifically Pseudolus, Miles Gloriosus and Mostellaria, the musical tells the bawdy story of a slave named Pseudolus and his attempts to win his freedom by helping his young master woo the girl next door.
The plot displays many classic elements of farce, including puns, slamming of doors, cases of mistaken identity (frequently involving characters disguising themselves as one another) and satirical comments on social class. The title derives from a line often used by vaudeville comedians to begin a story, "A funny thing happened on the way to the theater."
Written by Burt Shevelove and Larry Gelbart, with music and lyrics by Stephen Sondheim, the musical was the staple of the theatre since it opened in 1962.
A revival starring Nathan Lane in 1996 was a great success with Lane winning the 1996 Tony Award for Best Leading Actor and the Dramas Desk Award and Outstanding Actor in a Musical. The production was nominated for the 1996 Tony Award and Drama Desk Award, Revival of a Musical.
The USU Eastern version is directed by Corey Ewan, Ph.D., and features a cast of familiar faces as well as new talent. Many in the play are new to Eastern Utah's stage, most notably Gabe Marcotte who plays the character of Pseudolus. The storyline of the play centers on Pseudolus trying to gain his freedom by securing for his master the love of a maiden.
Zachary Ballard returns to the stage as chief Hysterium. Madison Olsen plays the love interest Philia while Benjamin Herron plays Hero.
Always a favorite on the Eastern stage is John Behn, who plays Senex; while Mack Smith plays Domina; Dave Hocanson, Marcus Lycus; Ben Jones, Miles Gloriosus; Christopher Vlamakis, Erronius; Richard Taylor, Patrick Paulk, Kevin Soto and Alex Holt, Proteans; and Terri Paulk, Kym Paulk, Ellie deMie, Scyler Smith, Chloe Clark, Alenea Gray, Bethany Peyton, Keely Earl, Christine Redford, Jordan Goyeau, Emma Benedict, Hannah Coleman and Jenny Taylor, cortesans.
Stage manager is Josh deMie, assistant stage manager is Veronica Tita, pianist is Jana Hoyt with Larry Martin vocal coach and Brandie Taylor Johansen dance choreographer.
Set designer, Brent Innes, created a completely unique set for the show employing an ancient scenic devise called a periaktoi. It is three-sided panel depicting different settings. "We are using it to represent the three-different houses in the play," he said.
Costumes came from Weber State University, Dixie State University and USU's Logan campus. We are the recipients of their very kind and generous programs, Ewan said.
"Although we are truly doing this production on limited resources, it will have a great look and will please and surprise our audiences," Ewan said. Forum opens April 20-29 (with Sunday black) in the Central Instructional Building's Peterson Black Box Theatre. Curtain is at 7:30 p.m. Ewan advises patrons to come early as seating is limited.
Remember: tragedy tomorrow, comedy tonight, he said.