Twenty-two outstanding students named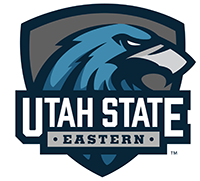 Twenty-two students in 23 departments, comprising the best students at Utah State University Eastern in 2016-17, will be honored at the awards program at 7 p.m., Friday, April 28, in the Jennifer Leavitt Student Center, as well as those students receiving honor and high honor cords.
In art and design, McKenna Brown, Centerville, was named the department's outstanding student; while the criminal justice department named Josefina Begay, Aneth, as top student with Sabrina Corpac, Tooele, as top criminal justice distance student.
Chanze Richens, Price, was named outstanding English literature student while Stacy Graven of Brigham City, named outstanding English creative writing student.
Jessica Prettyman of Price received the top social work student with Agatha Roese, Provo, top biology student. Ruschelle Lutes, Ephraim, received the nod as outstanding history student with Nathaniel Woodward, Price, outstanding communication student and Terlynn Westphal of American Fork outstanding journalism student.
Jamie Anderson, Woods Cross,received the outstanding elementary student, Eric Love of West Valley was named top philosophy student and Maeve Garvin, Elk Grove, Ill., top music student.
McKaylee Bullough, Price, was named the outstanding health professions student with Melanie Noyes, Ferron, outstanding licensed practical nurse and PN student. Diane Dalpiaz, Price, was named the top ADN student with Calvin Hill from Logan the top Engineering, Drafting, Design and Technology's student.
Deanna Ceal, Castle Dale, was named the "Stick to It" award by the business department with Joshua Shoemaker of Roosevelt named top welding student and Arika Flores of Magna outstanding cosmetology student. Matt Thayn, Wellington, was outstanding wildlife science student.