The historic town of Helper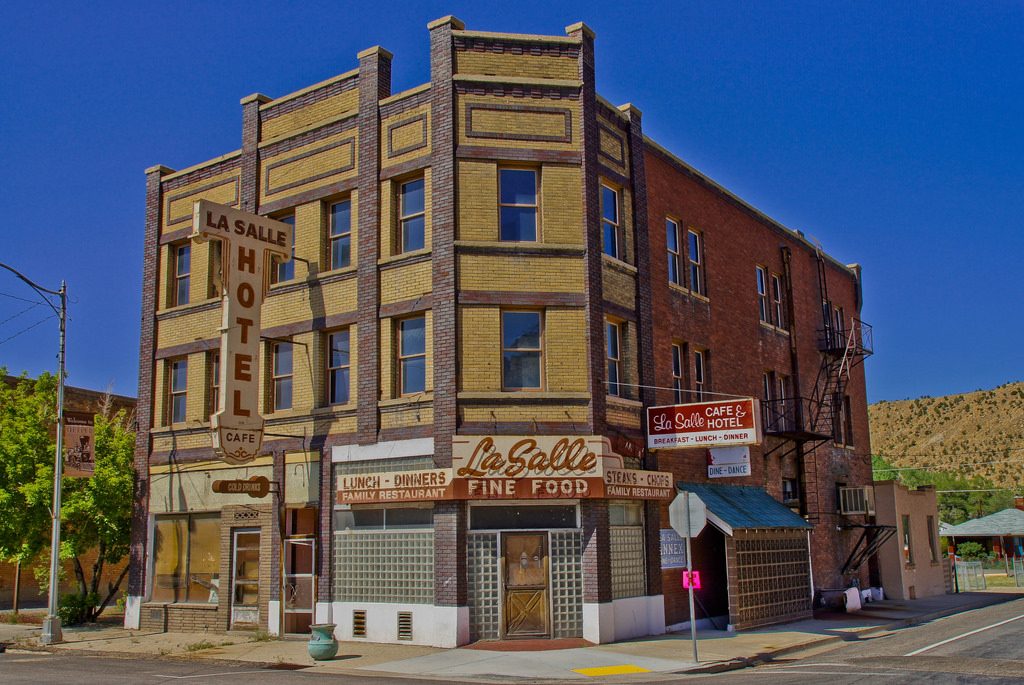 This archived article was written by: Lindsie Damron
Helper, Utah, was built upon the 1887 D&RGW railroad. Many railroad and coal jobs flourished and the town began to populate. Helper is an exquisite place to visit, not only for its scenery, but also the abundance of shops and historic sites.
Venturing onto Helper's Main Street holds many wonders. The train station, located behind Handy Mart,is still in use today and it is a beautiful recollection of history that many would never get to see. Train tickets can vary depending on the destination with prices range anywhere from twenty-five dollars to thirty-two dollars. It is well worth the trip through the canyon. If you don't have the time to make a trip, it is still well worth it just to see the station.
Another exceptional site is the Western Mining and Railroad Museum, also located on Helper Main Street. You walk through history as you travel throughout the museum. They have antiques, model train sets, jail cells and a remake of an old mine. The museum is located within the Old Helper Hotel Building that was constructed in 1913. The Hotel transformed into the museum in the early 1980s.
The Rio Theatre in Helper is just one of the many creative arts establishments in Helper. In the past, the community would come together and film movies to get played on the big screen. The Rio Theatre is also used for plays.
If you are a coffee, tea or hot chocolate lover, visit Happiness Within. The service there is always great and the coffees are even better. They offer a variety of drinks so anyone can find something to enjoy. They have many cozy couches to relax and visit. Starbucks is great, but nothing beats a warm or cold beverage from Happiness Within.
If you are hungry, be sure to visit the well-known Balance Rock Cafe. It is a beautiful place to dine-in and visit with friends over delicious food and friendly service. The cafe gets its name from the famous balance rock (on top of the mountain, north of Helper) seen from anywhere in town.
Another outstanding place to get a bite to eat in town is Marsha's Home Baking and Sammich Shop, voted "Best Place to Eat in Carbon County" in 2015. Marsha Ellington, the friendly owner, handcrafts every tasty treat in her shop. She slices all of the meats she uses and bakes her bread from scratch. Marsha's homemade eats are sure to keep you coming back for more.
If you're looking for a good place to get a tattoo, Hand Candy Tattoo and Piercing is the place to go. Keisha Way has done every tattoo I have and she does an outstanding job. With her reasonable prices, great personality and sense of humor, this is a great place to go.
The "Swinging bridge" is on the back road behind Main Street. It was assembled in 1936 and is still in use today, providing a walk across the bridge spanning Price River. There are many tunnels to stroll through giving the scenery an even more beautiful touch. This area is also known as the Helper walkway, the best place for a peaceful walk, and an even better place to capture exquisite photos. During Halloween, community members hold a free "spook alley" for everyone to enjoy all along this historical walkway.
In addition, the river is also a fun place to swim, very seldom do I walk by the river and see that no one is taking a dip, or tubing down the river.
If none of these appeal to you, then the Helper bowling alley is sure to. On top of bowling, they have a tiny arcade that offers air hockey and various claw games. This is definitely a great spot to hang out.
The old style of Helper is a revelation of the past. The gas station next to R&A market is a great reflection of this. With a fresh renovation, this is an excellent place to see and take great pictures.
When you find the time, spend it in Helper. You will not regret it!