Volleyball team heads into conference play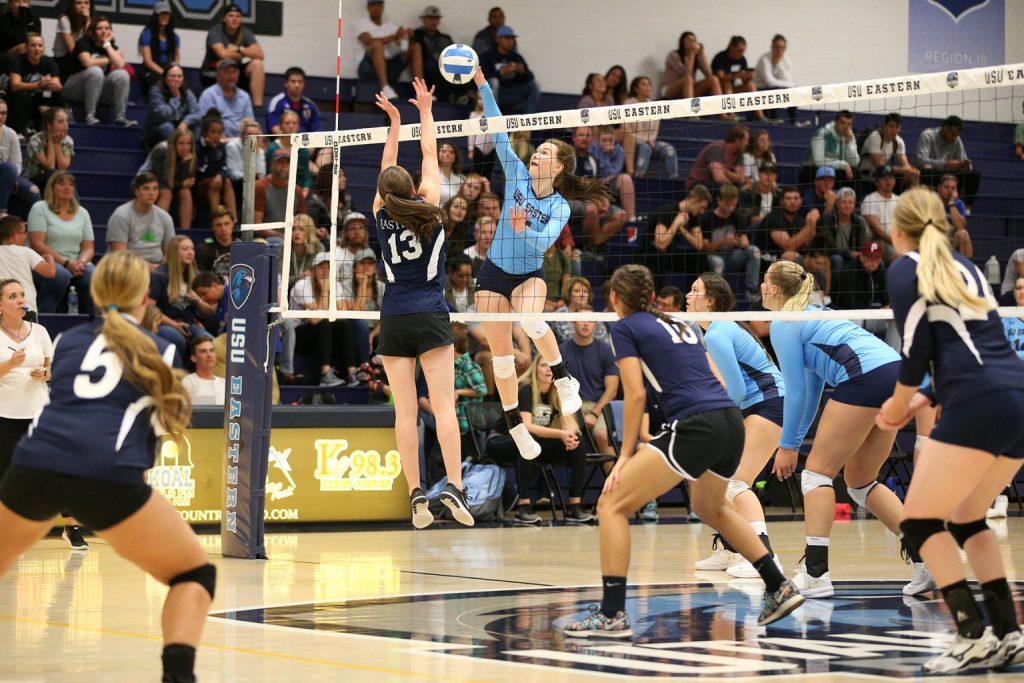 This archived article was written by: Brooke Anderson
USU Eastern's volleyball team continues being nationally ranked after suffering its first preseason losses.
The Eagles lost to No. 4-ranked Western Nebraska 3-0 at the Blue Mountain Inn and Suites tournament Sept. 8-9 in Colorado, but beat Sheradon 3-0, Eastern Wyoming 3-1 and Western Wyoming 3-1. Freshman Brooke Anderson reached a team high of 8 blocks against Western Wyoming. Freshman Megan Gurr led the team defensively with 76 digs for the weekend and Freshman Sarah Mafi led the team offensively with 49 kills.
Dropping to no. 14 Utah State Eastern volleyball headed to Las Vegas, Nev, for the College of Southern Nevada Coyote Volleyball invitational on Sept. 15-16. The Eagles went into the tournament with a record of 11 wins and 1 loss and came out with 13 wins and three losses.
This is quite different from the team last year. Coach Jensen believes that part of the team's success is due to the five returning sophomores. She stated, "their leadership for this season is going to be a key to their success… this team is made up of a group of girls that are very competitive and very athletic."
Currently the team is ranked No. 14 in the NJCAA, with sophomore Sidney Springer ranked as a top five kill leader with 191 kills and Megan Gurr ranked second in the nation with 322 digs.
The volleyball team started the weekend playing a top-25 team: Mira Costa College. After five long well fought sets, the Eagles fell to the Spartans 3-2.
Next they played against Victor Valley college and came out on top with a 3-0 win. With impressive scores of 25-14, 25-18 and 25-15 respectively.
The following day the ladies came out fighting to beat Edmonds Community College 3-0. Jaelyn Olsen led the team with five blocks and Sarah Mafi came out with an impressive 12 kills.
They closed the tournament playing one of their toughest opponents yet, No. 9-ranked Seward County College. The Eagles dropped the first set with a devastating 12-25 loss. They pulled together as a team to win the second set 25-22. Then dropped the next two sets both with losses of 19-25. Agatha Roese-Olsen led the team with 34 assists. Mackenzie Carter, Megan Gurr, and Sarah Mafi each led the team with one service ace.
The volleyball team begins their season play in the Southwestern Athletic Conference  this weekend with their home opener against Colorado Northwestern Community College. The game will be played this Saturday, Sept. 23 at 3 p.m. in the BDAC. The SWAC is one of the toughest conferences in the country with four of the six teams being nationally ranked. Southern Idaho is ranked fifth, Snow is ranked eighth and Salt Lake is ranked tenth.
Follow the team's on facebook at Utah State Eastern Women's Volleyball or at the Utah State Eastern Athletics website.