Basketball 5-2 in preseason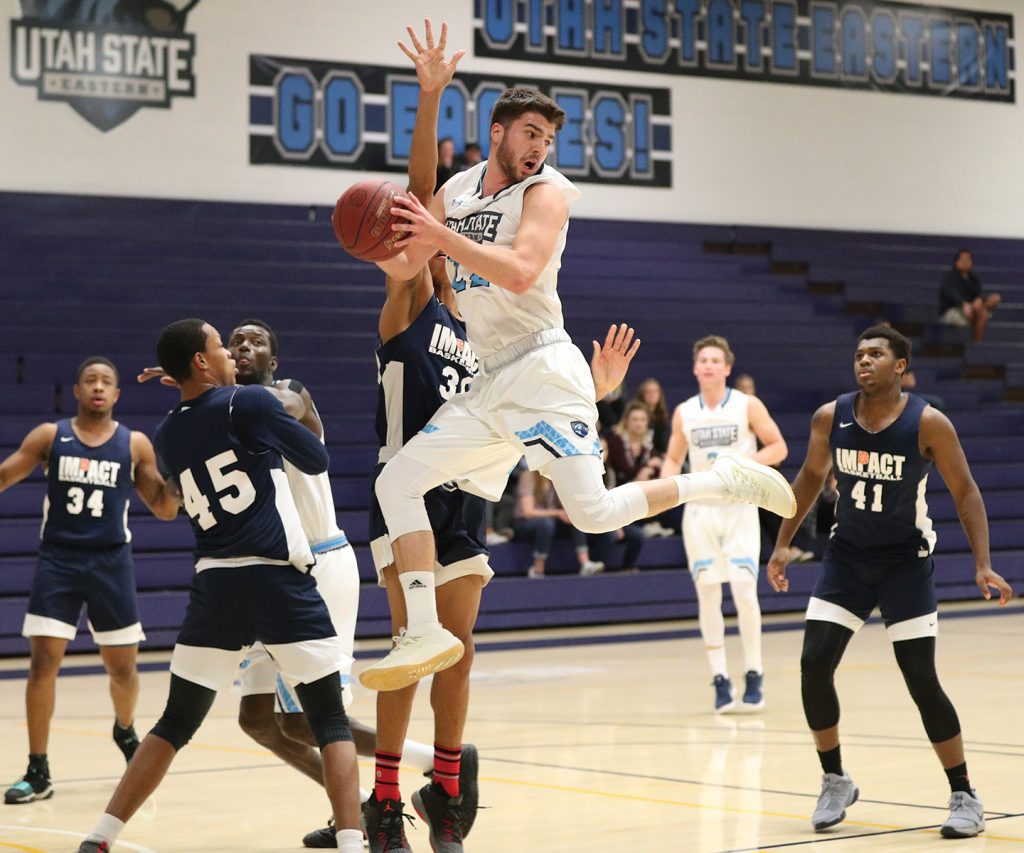 This archived article was written by: Brooke Anderson
Four wins and a loss on the road as well as two wins at home leave the Eagles with a 7-4 record.
The team headed to Twin Falls, Idaho, on Nov. 17-18 for the Wright Physical Therapy Shootout. The team came home with a loss against Treasure Valley Community College and a huge win against Columbia Basin.
The team first faced Treasure Valley Community College and fell 90-78 after a well fought game.
Kristupas Totoris led the team offensively with 20 points as well as two rebounds. Carson Bischoff followed with 13 points, six rebounds and three steals.
"I think our guards shoot the ball very well, but we still have to improve our interior game and also our first halves are not good. We are a second-half team" says Karbala Gueye.
Gueye led the team defensively with eight rebounds along with seven points and three blocks.
Milan Sulic' led the team in assists with five, and contributed 10 points, three rebounds and three steals.
After the tough loss, the Eagles came back fighting on Nov. 18, against Columbia Basin. They came out strong with a 54-23 lead. The Eagles kept their defense tight as well as making their shots offensively.
They came back after half-time and did not disappoint. The Eagles beat Columbia 121-73.
Petr Ropek led the team offensively with 19 points and three rebounds. He was followed by Neema Namdar and Nico Rojas, both with 17 points.
The Eagles had four more players scoring in the double figure including Totoris, Surlic', Matija Novikovic and Ivan Chmyrenko.
"The way we are practicing everyday is helping us to be successful, especially working had and focusing more on defense," Rafael Monteiro says.
He and Namdar led the team defensively each with eight rebounds.
After a solid week of practice, the team headed to Rock Springs, Wyoming, for the Mustang Invitational on Nov. 24-25.
Friday evening, they faced against Western Wyoming Community College. They came out weak the first half, and went into halftime with a 20-point deficit.
Despite a 100 percent free-throw percentage from Montiero and some impressive defense from Rojas, the Eagles fell 65-82.
Determined to come back stronger, the Eagles faced Central Wyoming again on Nov. 25th. Last time the team faced Central, they lost 65-90, however, this time the result was quite different.
With five players scoring in the double figures, led by Montiero with 21, the team beat Central 94-85. Ognjen Pantovic led the team defensively with six rebounds as well as two steals.
"We are a team loaded with skill and the first game it was anxiety or nervousness or whatever, we came out flat and never recovered. The second time [playing Central] we came out the aggressor and I think that really made the difference," says Bischoff.
He scored three points, one rebound and had one steal to help the team with the win.
The team continued their preseason with a successful week Nov 29-Dec. 2. The Eagles faced Impact Academy on Wednesday, Friday and Saturday, each with impressive wins of 119-88, 104-64 and 101-72.
On Wednesday, the Eagles showed impressive defense after working on it all week. Gueye rebounded a season-high of 15. He was followed by Rojas, Pantovic and Ropek, each with eight points.
"The games against Impact were there for us to learn and grow and get better. We tried getting better at different things every time and that focus on trying to improve has helped us stay focused. It hasn't been perfect, but we are seeing where we can get better," Bischoff says.
He led the team offensively with a personal high of 18 points and seven rebounds on Impact's home court.
Impact followed the Eagles to their home court for the following games that weekend.
On Dec. 1, the Eagles began the first half a little shaky. The team entered half time with an uncomfortably close score of 35-29. However, the team pulled away after half time with some well-timed points.
"It is really hard to find the motivation when you have to play the same team five times in a very short time, but we found the way to play every game with the right mindset and win every time," Surlic' says.
He led the team with 15 points, followed by Novikovic with 14 points and Bischoff with 13.
"We stopped their best players, played really good defense and I think these games will give us confidence against better teams that we are going to face in the future," Pantovic says.
He led the team defensively with 13 rebounds and four blocks, followed by Gueye with 10 rebounds and one block.
Reginald Moore led in steals with three.
The Eagles came back Dec. 2 with the same focus and drive. They beat Impact 101-72.
Monteiro led the team with 23 points. He was followed by Totoris and Swartz with 16.
Rojas led the team with eight rebounds, followed by Pantovic with 7.
Novikovic led with three steals.
"I believe that we have a great group of guys that keeps getting better after every game and I expect a successful second half of the season," Surlic' says.