Eagles' guard breaks Eastern's 3-point record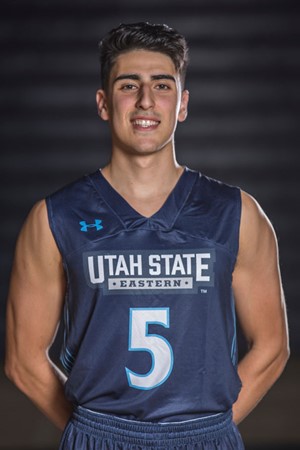 This archived article was written by: Nicholas Schaposhnik
Those who were at the Bunnell-Dmitrich Athletic Center on Jan. 6, watched one of the best men's basketball games USU Eastern has ever played. The Scenic West Athletic Conference opener went to triple overtime, and despite leaving with a loss in the end, Eastern's basketball team looked good that night, especially beyond the 3-point line.
One of the most important players on the team was Neema Namdar, a sophomore transfer from Southern Utah University. He finished with a team high 34 points and played 54 of the 55-minute game. He was on fire, shooting threes, some nearly from the half-court line, and his 10-three-point shots broke the 25-year school record for most threes in a game. The previous record was nine set by Eric Talley, during the '92-93 season against Snow College. He felt it wasn't fair that he set his record in a 40-minute game, not a 55-minute game.
The following week, Eastern played against Colorado Northwestern Community College in Price, and sophomore shooting guard Kristupas Tortoris did the unexpected and broke the record again, hitting 11 3-point shots in a 40-minute game, just enough to show Talley that the new generation is shiny.
The game went smoothly for the men's basketball team, from the beginning they controlled both ends of the court, and finished with a 98-74 win.
Namdar, a shooting guard ranked fifth in the nation for three-point-shots made finished with 64. His parents are from Iran and came to America looking for a better life. Growing up in Sandy, Utah, he went to Alta High School where, in his junior season, his team won the conference and 5A state playoffs.
Q – Congratulations on breaking the school record for most three pointers made in a game, how do you feel after a one-of-kind performance like this?
A- "I just felt like hitting shoots, normal. I was only focused on playing to win, nothing else. The shoots came and I just took advantage of it."
Q – What lesson do you guys get from a game like that?
A – "We learned that we need to work on close game situations more, trust our defense and play all the way through the game, despite the refs not being the best ones. We can't foul that much."
Q -You went to SUU in your freshman season. What made you transfer to USU Eastern?
A – SUU wasn't the right fit for me. I needed a place where I could prove my skills, play a lot of minutes,etc. Coach Ray [Jones] was on the coaching staff there, and when he told me he was going to be an assistant coach at Eastern, I knew I could trust him that here would be a good place for me.
Q – How different is the experience between a NCAA D1 program for a JUCO D1 program?
A – I just think the size, the competition, gyms and publics are definitely bigger; the routine is harder and the practices and games are more intense. The big guys in the D1 programs are all very good and super physical when playing, but the I feel like the level of guards are pretty similar in both leagues.
Q – What are your expectations for this season?
A – My expectations are high, I want to make it to the nationals, which means we need to win our conference first and feel like our team has enough potential to do it.
Q – Plans for the future, ambitions?
A – I wanna play D1 basketball, that's my goal now. For the future, I always wanted to play professional basketball and don't mind making my own path to the dream league. If I need to go play overseas, G-league or anything similar where I could keep getting better, I would be happy, why not dream about NBA? People always says it's impossible but I have friends that grew up with me that made it and that keeps me motivated to keep grinding.