EUSA returns three for 2018-19 student government, all in new positions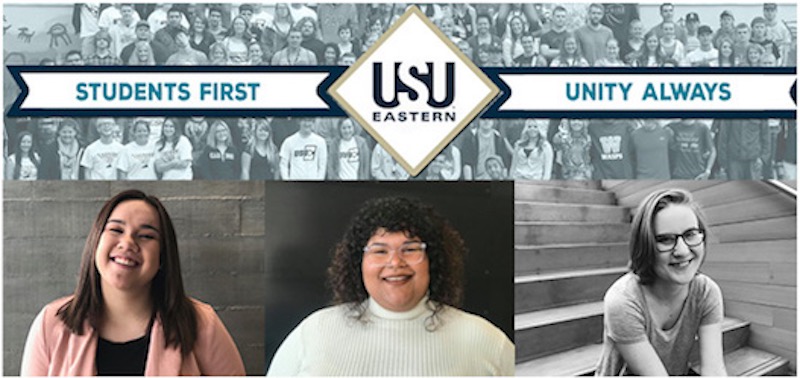 This archived article was written by: Scott Froehlich/Emma Campbell contributed to this article
Utah State University Eastern's 2018-19 Eastern Utah Student Association election officially drew to a close, Feb. 23. During the school's "Comfort Food Cookout," sitting Student Body President Dean Thacker announced the winners chosen to fill the three-executive-office positions. Executive Vice President Alex Anderson won the vote to replace Thacker as president, Sydney Ho was elected to fill Anderson's role as executive VP and Paige Martinez was selected to become the new VP of activities.
Alexandria Anderson-
Student Body President
For President-elect, Anderson, this position is just another in a long line of student government positions she's held. Since her freshman year, Anderson has been serving in some capacity for the EUSA. She plans to utilize this experience to work with her fellow officials.
Reflecting on her past three years, "I know that I will work well with my VPs.  Paige [Martinez, VP of activities] and have both been on student government since our freshman years; we both shared the same position as administrative assistant. Sydney [executive VP] is on my team this year and learned her leadership style and the way she wants to run the CDI, resonates with me," she said.
Anderson ran on a simple campaign that revolved around the notion of "changes you can see." One of her first goals she wants to work on from day one is addressing the empty space that will result from the closing of the USU Eastern Book Store in May. "The JLSC will be going through lots of changes this summer.  
"The bookstore is out, something will have to go there.  My first action as president will be making sure that whatever takes the place of the bookstore is the best thing for the students," she added, "I campaigned on [the] simple things and I want to stay true to that. As a problem arises, I want it to be fixed, especially everyday things that all students are affected by."
Anderson acknowledged the great job Thacker has done before, during his time as president, but offered up ideas for how she plans on governing.
"Dean [Thacker] has done a lot of behind the scenes work.  I want to be seen making changes, I want students to know that I'm listening to them and making those changes.  Changes you can see, you see me changing things that affect you everyday and long term."
Sydney Ho-
Executive Vice President
Ho is entering her position with a background of service at nearly every stage in her life. She ran on a platform that focused on diversity and the plans she has to further incorporate every student, regardless their differences. "I want everyone to feel included in our diversity events [and] want everyone to show up and enjoy themselves."
To help foster this environment, Ho would like to steer away from the trend of organizing many large events in favor of less, more well-planned out ones instead. Using her recent experience as clubs and organization representative, she'll work closely with Anderson and EUSA. "I have had the opportunity to work under her this year, so I know it will be great.  
"Alex has the leadership personality where she wants you to be responsible to get things done, but then gives you the freedom to what you believe is right.  She delegates well," Ho said. She also recognizes the success that Thacker and his group created and believes that "a lot of good things have been to make this program what it is, and I want work off of that."
Paige Martinez-
Activities Vice President
Martinez also comes into her new position with student government experience and looks to use it to be efficient and successful. "I have been on student government for three years and the administrative assistant for two…I know what works and what doesn't work. I know how student government works and how to get my events planned through all of my experience."
She has been working alongside Anderson throughout those three years, so there is optimism regarding their ability to continue their working relationship. "I hope to work well with her. Alex was my first friend in college and one of my best friends.  
"Because we both had the same position [as administrative assistant], we have a kinship of how frustrating it can be to organize an entire team, Martinez said. "She's been my biggest supporter this year."  
Martinez is also eager to reach out to the students and begin an open-ended relationship with them. "A lot of students make comments on events, but not to the right people.  I hope to work closely with the student advocate[s] after events, to survey students on what events they want to see.  Just asking students what they want can make a big difference."
All three students were sworn in Feb. 27 and will go through leadership training sessions before they begin their work.