Soccer signs 10 for 2019
Sam Hall Sports Editor Immersed with excitement for the upcoming season, Utah State University Eastern…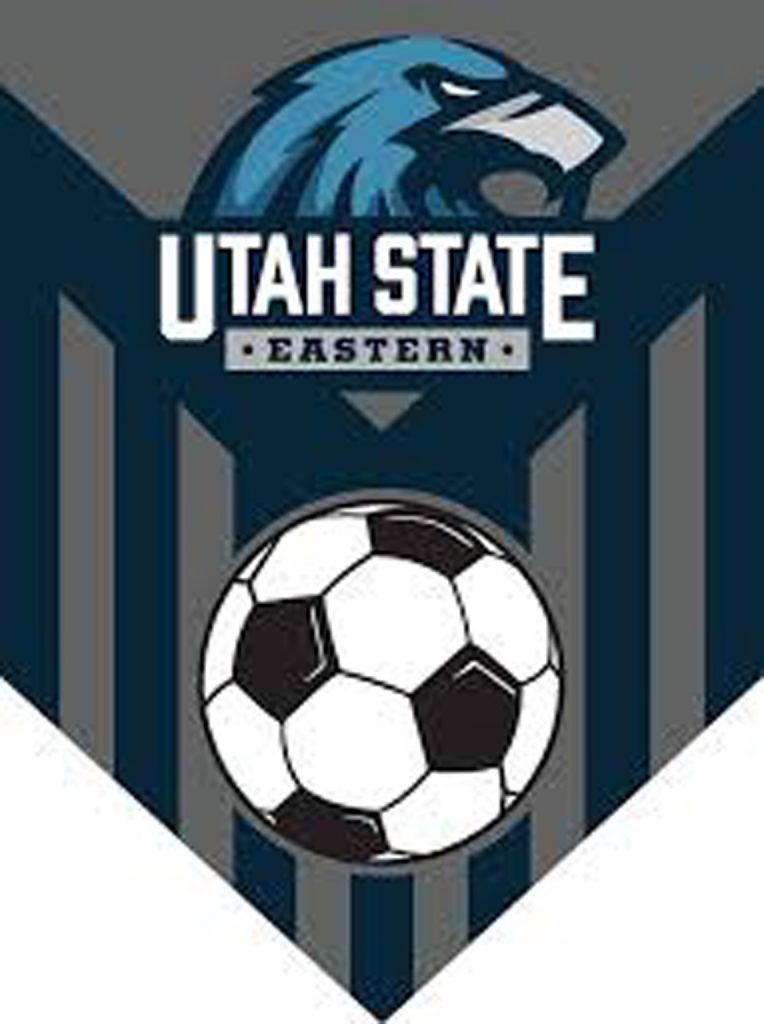 Sam Hall
Sports Editor
Immersed with excitement for the upcoming season, Utah State University Eastern women's soccer announced the signing class of 2019 in December. The team added 10 signees and 14 sophomores to step on the field for USUE and compete for the Region XVIII Championship next season.
The signing class of 2019 features nine athletes from Utah and one athlete from Nevada.
Looking to bounce back in 2019, 14 sophomores, who played major minutes their freshman season, will be returning to the field. Stepping on the field as sophomores for Eastern are: Sarah Reddish, Madison Nichols, Heather Moore, Brooke Stoker, Alie Stevens, Tasha Kamachi, Kailee Haskell, Logan Duran, Morgan Cragun, Rylie Bunce, Claire Boman, Aubrey Mitton, Hadlee Harvey and Casey Bergen.
The signing class includes players of all varieties, who play multiple positions which will help fill those that need to be addressed, according to Eastern head coach Ammon Bennett.
"From keeper to forward, we feel like we have brought in a great class that should be able to compete for the Region XVIII Championship this upcoming season. This is great group of players from across the state of Utah. We really like the players that are coming to play for us, as each of them can play multiple positions and will fill all of the major roles that we needed to address for the 2019 season," Bennett said.
Among those in the class is Morgan Haag, from Cedar City, Utah, who played as an attacking player or striker for Canyon View High School, as well as club soccer for Southern Utah Premier.
Another addition, Brooklyn Anderson mostly plays outside midfielder or an outside back. She is from Alpine, Utah and played for Lone Peak High School and Arsenal FC. Marissa Cribbs is the lone player who signed to play at Eastern who isn't from Utah. Cribbs is from Las Vegas, Nevada and played center-mid for Palo Verde High School and club soccer for the Downtown Las Vegas Soccer Club.
Coming from about an hour away from Price, midfielder, and forward, Raquel Whatcott from Maple Mountain High School and Utah Storm comes with excitement for the upcoming season.
Three Layton High School and Wasatch Elite teammates decided to continue their education and play for Eastern in the 2019-2020 season. These three girls are goalkeeper Meg Edwards, Midfielder Atley Thompson and defender and midfielder Kinlee McMillan.
In addition, Brenna Martin is an incoming freshman from South Jordan, Utah who plays midfield and defensive positions on the field. Martin played for Bingham High School and La Roca. Also, from sunny St. George, Utah, Ashley Brindly is a forward who can play anywhere on the field. Brindly played for Snow Canyon High School and club soccer for the Bombers and Crush.
Finally, Katherine Stone, a defensive midfielder from Orem, Utah. She attended and played for, Lumen Scholar Institute and La Roca 01 ML.
"These players, along with a very strong returning class, has us coaches excited for next year. We feel like we have a very deep group with several players that can play multiple positions for us. We are anxious to get started with the season… and it's only [winter,]" Bennett said.
On March 30, 2019 at the college game fields, Eastern will be holding friendlies against Utah Valley University and University of Utah. To start the matches, the Eagles will be taking on U of U at noon. Eastern will then watch UVU and U of U play one another and then play against UVU at 3:20 p.m to start off their spring season.