Drumline adds rhythm to basketball games
Kassady Sitterud Sports Writer The USUE Drumline may seem small with their eight members this…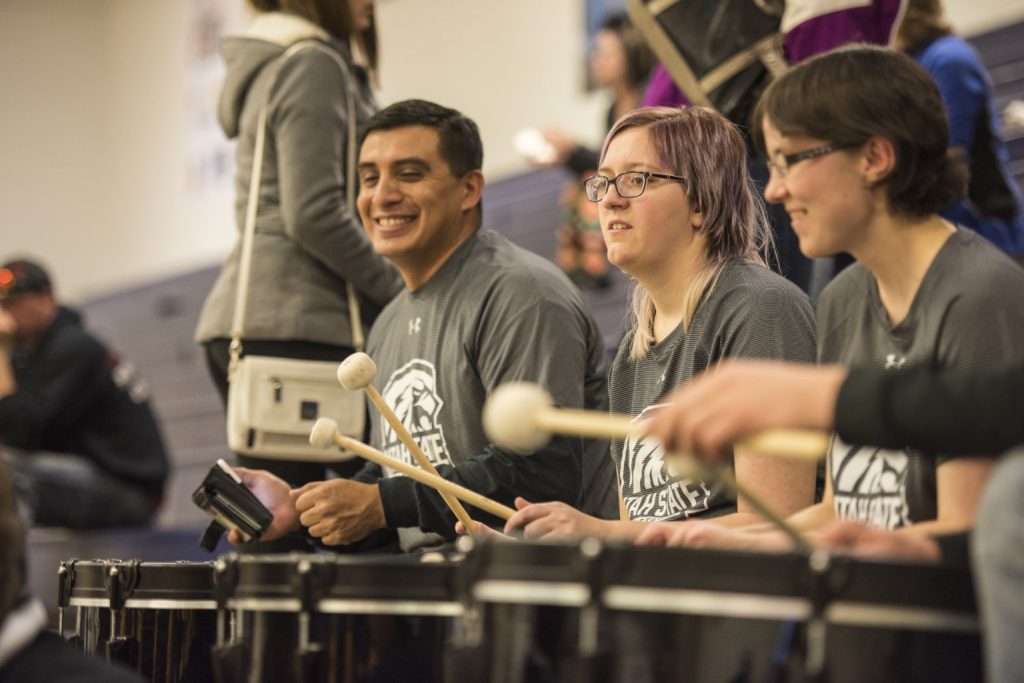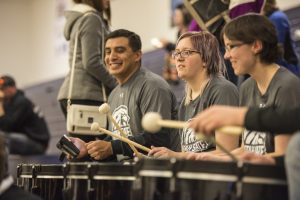 Kassady Sitterud
Sports Writer
The USUE Drumline may seem small with their eight members this year, but theses eight students are loud and proud members of the USUE Spirit Squad.
The Drumline Coach is Ben Jones who is also the administrative assistant on the USUE Price Campus. Captain of the drumline is Paige Martinez she also is one of the drumline's cymbal players. The other members of the drumline are Jenny Taylor, Kyle Hultgren, Nate Smith, Arianne Woods, Zaharah Rossi, Chelby Frandson, and Kassady Sitterud.
Coach Jones has commented on the drumline by saying that the drumline has seen significant growth in the first two years. It's become very popular both on and off of campus. The idea for the Spirit Squad as a whole has been continuous.
Taylor, Hultgren, and Smith make up the bass drum players of the group. Woods and Rossi are the snare drum players of the line. Frandson is the lone tenor player of the group, while Martinez and Sitterud make up the last of the group as the cymbal players.
Coach Jones has also commented that the talent on the line this year has come together very well. From those who are musicians who have had no percussion experience to the seasoned artists of the line.
Coach Jones said that being the coach for the drumline has had many wonderful up's and downs. You expect them all and this year has been no different. I find myself learning more and more about people and myself at the same time.
"I get to work with wonderful people at the university like Brandi and Kelly and I get to stay around youthful people. Being able to contribute with percussion and enjoy it is a great opportunity." Jones said
This group of students play for the crowds at the home games of the USUE Athletic groups. On January 31, 2019 the drumline will play a special song selection at the USUE Fan Appreciation Game that start at 5:30pm. At the Fan Appreciation Game, the Drumline will showcase new music that has not been heard at any of the events this year.
The final comment that Coach Jones made about this year's drumline is that his goal for the drumline has been improvement across the whole board, he also said that this goal has been met and improved upon.