Welding with the best in America
It's almost like a broken record when another Utah State University Eastern student wins a…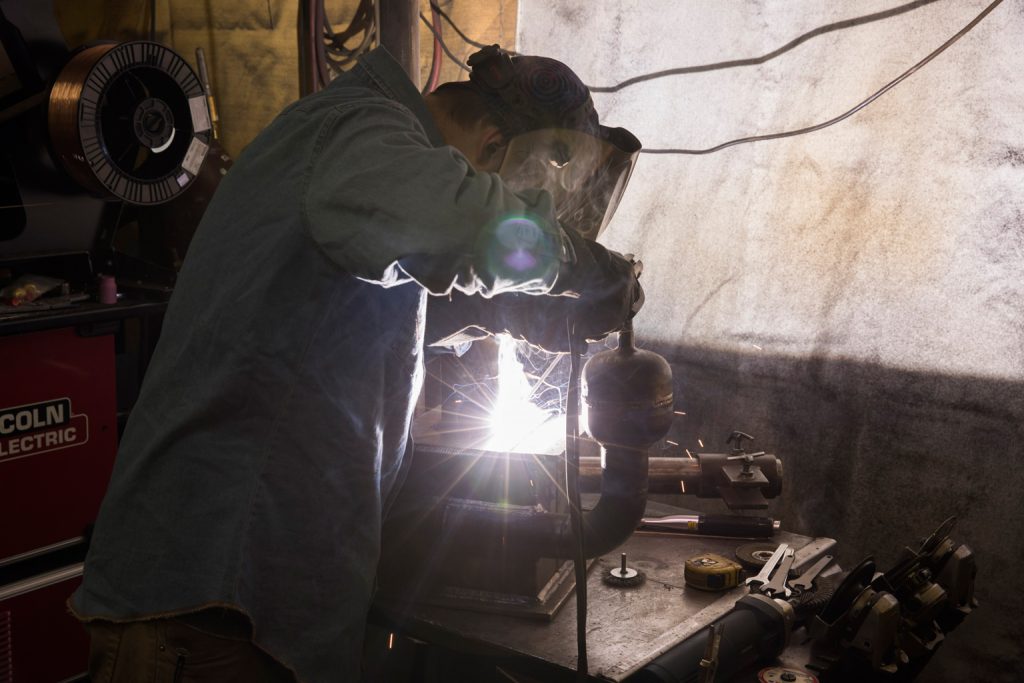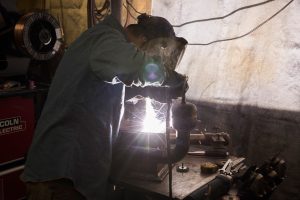 It's almost like a broken record when another Utah State University Eastern student wins a competition or is named as one of the top welders in the United States.
It happened again when sophomore Jordan Wynn of Roosevelt, made the cut from the top-25 welders in the country to the top six and now the top three.
Wynn is following in the steps of Eastern's Chandler Vincent who was named the best welder in the U.S. and fifth-best welder last year at the WorldSkills welding competition held in the United Arab Emerites..
This is not the first time Wynn followed Vincent. The two grew up together and attended Union High School where they took welding classes from Eastern alumni Kevin Mitchell.
As a high school junior, Wynn placed second behind the senior Vincent who placed first in the USU Eastern's High School Welding Competition. During Wynn's senior year, he won first place in the competition and a full tuition scholarship to attend Eastern.
Since both of Wynn's parents are in the medical field, in high school he planned on becoming a doctor. His family owns a 110-acre farm in Roosevelt and his dad suggested Jordan take a welding class so he could repair some of the farm equipment. Thus, Wynn took welding in addition to classes relevant to the medical field.
Smiling, Wynn said he used to be a better student before he started welding. "I missed a lot of school because of practice and competitions."
He gave up his medical school dreams after he fell in love with welding. The art of becoming a top-notch welder was never easy and I wasn't a natural at it, so with hard work and practice, I tried to become the best.
"For me, Eastern has the best finishing school for welding. Students come in with basic-welding skills and the instructors take them to the next level. You get out of the program what you put into it.
"Plus, Eastern has a low teacher-to-student ratio so students have a lot of time working with each of the three instructors," Wynn said.
He likes attending Eastern because it is located in a small community and in his spare time, he drives the roads in the surrounding hills of Price. However, his spare time amounts to 30 to 40 minutes each day as he starts welding at 6 a.m. seven days a week and welds until 7-8 p.m. He's in the lab so much, he has a key to let him in the lab early and locks it when he leaves.
"Jordan is more focused and dedicated than any other student I have taught. Somehow, at his age, he understands that he will be able to leverage this experience throughout his career. I don't know how this sequence of competitions will end, but, I do know that Jordan is a winner regardless of the final tally." Lon Youngberg, Eastern welding professor, said.
Wynn and his instructor Mason Winters, returned from Alabama recently where his competition went from the top six welders to three. "There were some of the best welders I have ever seen," Wynn said. "They are all nice guys and I was not nervous because all the guys were laid back and I did not feel pressured. After spending nine days with them, we became a welding family."
"I had practiced all the projects 12 or 13 times. I was calm because I was prepared in all facets of the competition," he said.
His instructors tell him to stay focused, make good welds and when he gets frustrated to work through it.
He returned to Huntsville, Alabama, in January for a week-long practice round and again in February, where Wynn and the two other finalists compete in the final round. This level of competition is sponsored by the American Welding Society. The focus will be on four-major arc welding processes: gas-metal arc welding, flux-core arc welding, gas tungsten arc welding and shielded-metal arc welding. If he wins, he will travel to one or more international competitions and finally to Kazan, Russia, in October for the WorldSkills championship.
Both Mason [Winters] and Lon [Youngberg] tell me that I will get back what I have put into it, Wynn said. It takes tons of time, but I will have the skills to get any job I want.
Wynn's education will not end at USUE. After graduation he plans to attend Weber State University to earn a welding engineering degree. He definitely wants to eventually work as a welder inside a shop and is toying with becoming a welding instructor eventually.
"I like to go into a student's booth and give them suggestions on getting better; learning something that I helped teach them gives me a great feeling," Wynn said.
His best advice is "be where you are when you are;" pay attention in class, then go out and do what you want.
Realizing that getting this far in welding did not happened without help from a lot of people. Wynn acknowledges his gratefulness to Eastern instructors Youngberg, Winters and Austin Welch plus his high school instructors at UB Tech in Roosevelt: Kevin Mitchell and Ricky Prather. Charlie Sweet laser cut all his projects and Intermountain Electronics donated time to allow Sweet to do this.