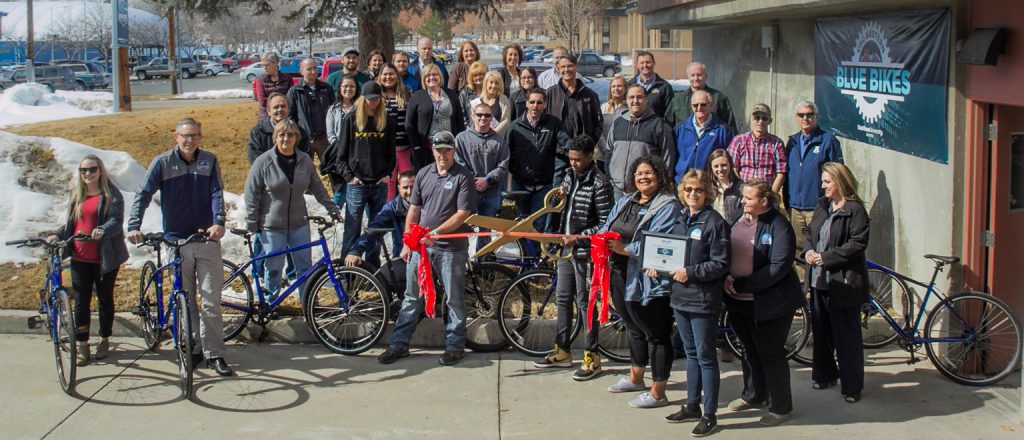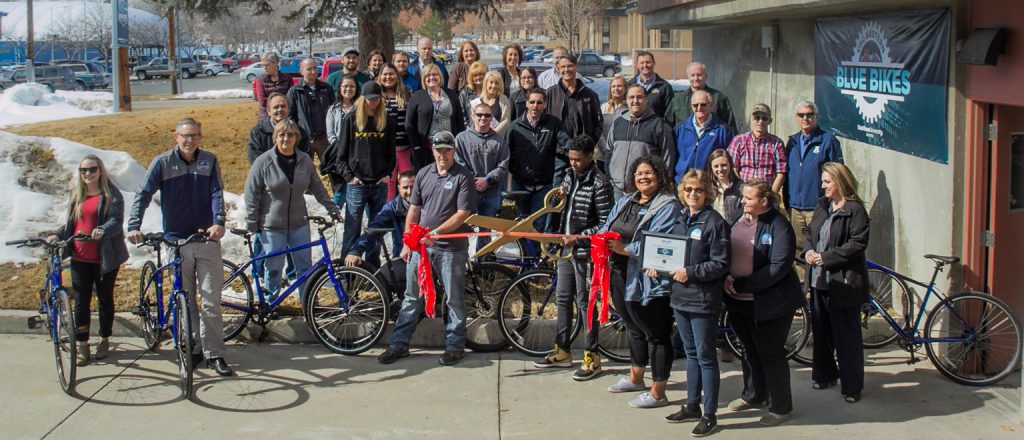 A bike program started on the Logan campus was put into works at Utah State University Eastern by interim chancellor Gary Straquadine and is official as on Feb. 26.
Eastern's Blue Bike program is for the students to use as transportation around Price with some mountain bikes purchased for students to use to ride on the hundreds of trails throughout the area. Bikes are free of charge to rent for long and short periods of time.
Beginning in October 2018, Straquadine and Kirt Jensen set the plan to have the Blue Bike program on the Price campus.
"I saw when I was going to school in Logan that it was a huge help to the students" said grad student Kirt Jensen. "I saw the need down here and wanted to fill it."
After only a few weeks, the community began to donate, totaling about $7,000. Donations came from Market Express, Emery Telecom, Gagon Family Medicine and Peczuh Printing.
Straquadine found funding for the Blue Bikes to purchase bikes, hire students and get the program in the works.
Two student mechanics were put through interviews and a process with Samuel Woubshet and Kaina Elias hired to run the program on campus. "I was excited because this was a great opportunity" Woubshet said. "I got to be a part of something that will be continuing for many years to follow."
The bikes were purchased locally from Bicycle Werks and some were donated from the community. Elias and Woubshet were able to work hand-in-hand with the team at Bicycle Werks to learn how to build and repair the bikes.
Both students put together 22 bikes. Tools used to build and repair the bikes were purchased and donated by EUSA.
The Blue Bike Program is now available to students. You must have a sturdy lock and a helmet before renting a bike. Students will be in full responsibility after signing and renting a bike.
You are able to rent your bikes, at the Blue Bike Shop located in between the Jeniffer Leavitt Student Center and Police and Purchasing building. Hours are not official, therefore if you are interested in renting a bike, contact Kirt Jensen (435) 650-5527.
In addition to renting a bike. if you have a bike that needs to be fixed, bring the parts in and the mechanics will help you fix your bike.
"At the moment we do not have all the supplies, Jensen said. "But if you go and get them, we can help you fix your bike."
The bikes are currently just for students to use. In the future they plan to be for the community to rent, but that's in the works.
This is going to help connect the campus to the community" Jenson said. "Students will be able to go to the store, attend events and not have to buy a rad new bikes."
"I am looking forward to helping students that are coming from a far" Woubshet said. "I understand not having transportation, but now it's available for free."