Kalli Prendergast's Last Will & Testament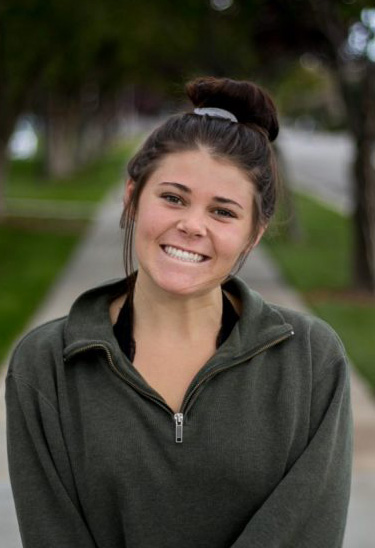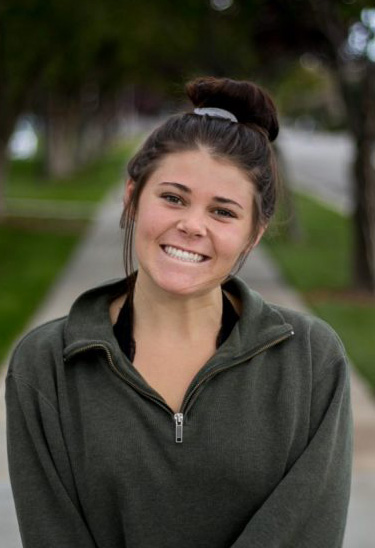 Moving out of my home state of Nevada and coming to Utah took bravery. I was ready to be with a new community, seek new opportunities and grow as a person. Ultimately, I came to be a college athlete. One short semester later, I realized that was not my path. I decided, instead of running home, if I plant my seed in Price, I might as well water it and grow. It feels unreal to be writing a farewell to a school and newspaper that truly evolved me into the person I am today.
During my first semester, I saw a flyer. A flyer that read, "Writers are needed for The Eagle staff." Immediately, I knew this was a way to get involved with the school. Just what I wanted.
I fired a long explanation to the editor and adviser as to why I should be a part of the staff. Within a few hours, I set a time to meet the staff. Monday morning came around, I walked through the doors, head held high, ready to meet new faces. The immediate connection and vibe of the newsroom, had me set. I knew I was going to write and involve myself in this staff. Although, I immediately went straight to the corner desk and found myself a home, everyone supported me through my hardships, talked to me every day and made me feel a part of a community.
After my first semester, I thought to myself, why leave somewhere when I am involved with an amazing community? I was pursing my passions and wasn't even sure what could come from this opportunity.
Professor Susan Polster spoke to me about my skills and enthusiasm. Notifying me, on my return to USUE the spring of 2018, I would be the editor-in-chief. Along with that I would receive a scholarship.
Becoming editor in chief was nerve-racking. I had to step into a leadership role to run a college newspaper. If it weren't for the news staff, especially the other editor, Scott Froehich and professor Polster, the transition wouldn't have been easy. I went from the corner desk to the front of the room, at my own desk.
Here is where the seed I planted began to bloom: my journey of growth, development and passion. This role led me to have a strong responsibility. People were relying on me, following my path and listening to me. I developed this characteristic that guided me through my life from that point forward.
The Eagle excited me every day. Not only because I had a role, but because of each individual apart of the news staff. They became my best friends. I could rely on each and every single one of them to be there when I needed them, or I could be there for them. Mentioning a few of them wouldn't be fair, it was truly not a few, it was everyone. Being a part of something bigger than yourself here on The Eagle staff was all I could have asked for and more. Home was far away they helped create a home right here in Price, Utah.
During some of the hardest times of my life, and some of the absolute best, there's one person who never left my side; who saw me through my doubts and encouraged me to be who I wanted to be, despite what others told me. This one person in specific, I need to thank for getting me out of my comfort zone and opening countless doors for me. You showed me how to be independent and have a heart to serve. Susan Polster, thank you. You are a huge part of who I am today.
Price, USUE and this Eagle community hold such a large spot in my heart and forever will. I have to mention three people who mean the world to me and thanks to The Eagle we all became connected.
Scott Froehlich, thank you for leading the way of drive and passion. You never gave up, despite having a new addition to your family this year, an amazing wife, working full time and being a full-time student.
Cody Phelps, we only met a few months ago, but your inspiration and words touch my soul. We relate and connect in many ways that people don't. You are defying the odds every day, pushing yourself and striving for greatness; qualities I appreciate and thrive to have every day. I can't wait for you to take over as managing editor because your leadership skills and work ethic is outstanding, therefor knowing you will be great.
Susan Polster, thank you for modeling success. You guided me through times I wasn't sure I was going to get through, led me to be involved and saw potential in me for a leadership position. You have a never-ending list of qualities I strive to have and words that truly hit the heart. You are a true role model to me.
I knew I had to move out of Reno. I just felt that there wasn't any room for me to grow anymore. I came to USUE for a new experience and new opportunities, to say the least. I've made the best connections, opened so many doors and matured to a young independent woman. I truly am thankful I made the decision to take a risk, move away, and join The Eagle. I wouldn't be the person I was today if it weren't for USUE and The Eagle staff.