Volleyball off to a smashing start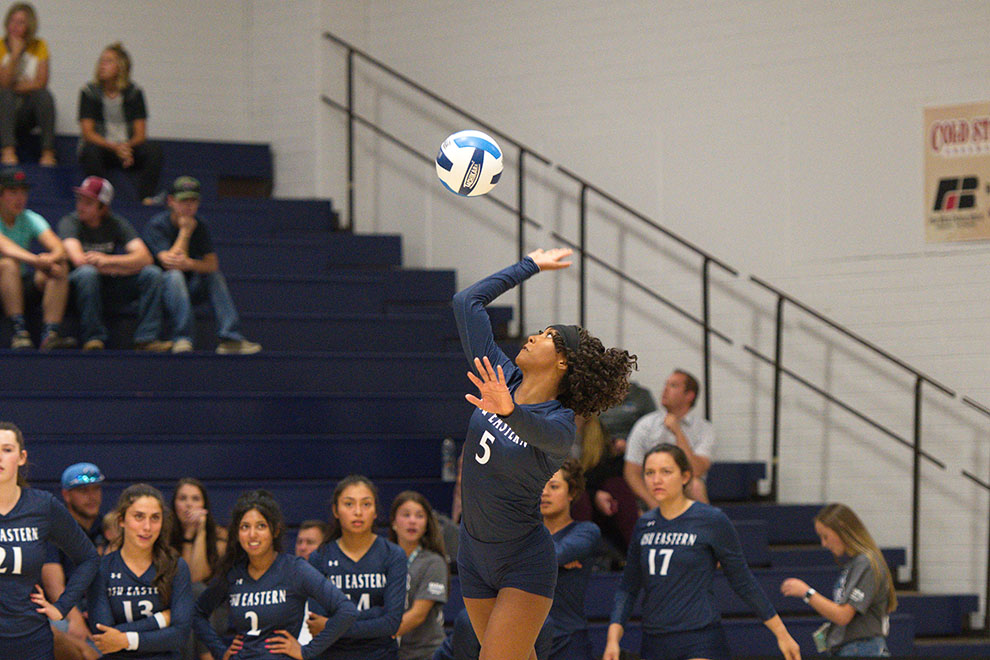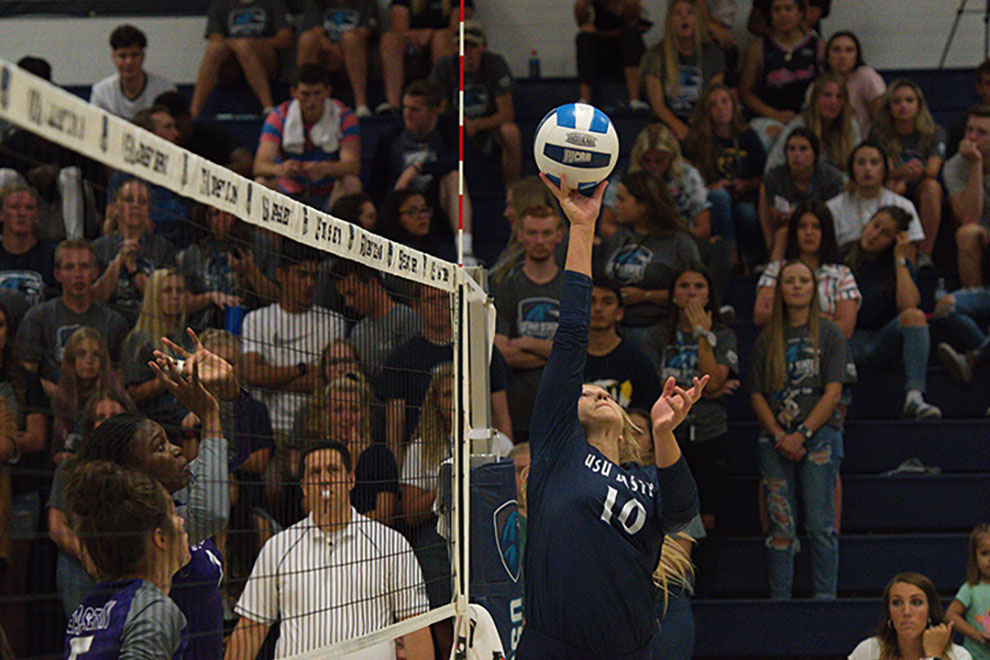 Utah State University Eastern womens volleyball team came out strong as they head into the preseason 10-2. The team opened preseason at the Snow College Invitational in Richfield, Utah, where the Eagles served up three of their wins, confidentially, leading them into their first home court game.
Eagles def. Otero Junior College 28-26, 25-16, 25-16
The Eagles started out the Snow College Invitational firm, winning all three sets in the first game. Leading players were Kiara Richardson with 11 kills, Sunny Perry with one ace, Alyssa Simmons with four blocks, Ashlee McUne with 40 assists and Avery Best with 15 digs.
Eagles def. Central Wyoming College 25-16, 25-23, 25-16
The Eagles were able to conquer all three sets in the second game as well with help from Breanne Bitter with 12 kills, McUne with four aces, Simmons with five blocks, McUne with 26 assists and Ricks with 11 digs.
Eagles def. Trinidad State Junior College 25-16, 25-9, 25-16
Putting a third game in the bag, the Eagles seemed unstoppable with aid from Bitter with 10 kills, Ricks three aces, Kahea Nihipali 7 blocks, McUne 37 assists and Avery Best 18 digs.
Eagles def. Yavapai College 27-25, 25-21, 16-25, 19-25, 12-15
The Eagles were off to a great start winning two sets, but seemed to slowly lose momentum of the game as Yavapai took control of the last three sets. Top players of the game were Perry with 13 kills, Ricks with an ace, Nihipali five blocks, McUne 53 assists and Best 35 digs.
In their first home game, fans and students rallied to support the Eagles as they battled a tough competitor from Eastern Arizona College on Aug. 26 in the BDAC.
Both teams came out motivated to take home a win. In the first of five sets, the Eagles put up a strong fight but struggled to overcome the Gila Monsters, settling the score at 18-25.
In the second set, the Eagles were able to gain more control of the ball and stayed neck-to-neck with the Gila Monsters. Nihipali, a middle blocker, had hands of fire at the net as she blocked the Gila Monsters' offense. As the game began to intensify, so did the crowd, cheering on the Eagles with a win in the second set of 26-24.
With both teams having won a set, the game became more thrilling as the third set approached with the Eagles and Gila Monsters still tied up with a close score. The Eagles McUne, a setter and Bitter, an outside hitter were an unstoppable duet with 50 assists and 13 kills, keeping the Eagles defensive line secure. The set finally ended when the Eagles were able to pull ahead by just a few points winning 30-28.
Continuing into the fourth set, the Eagles knew if they won this set it would end the game. Ambitious, the Eagles came out solid and took a steady lead on the Gila Monsters. Arizona's coach called for a timeout in hopes to adjust and get a hold of the fourth set, but the Eagles refused to show flaw in its momentum. Arizona called for a second time out, but this time were able to tie the score at 24-24 when the Eagles lost control. Ricks was able to save the Eagles defensively with a total of 14 digs and with a few readjustment, the Eagles pulled ahead one last time winning the set 26-24 and ending the game 3-1.
Eagles def. Eastern Arizona College 18-25, 26-24, 30-28, 26-24
The Eagles were eager for the following weekend after its first home game as they headed on a roadtrip to Dalton's Overstreet Invitational in Prescott, Ari. The Eagles played seven games against hard competitors, three teams being nationally-ranked (Western Arizona No. 20, South Mountain No. 6, Glendale No 10). The Eagles won 18 out of 23 sets during the tournament and now hold a five-game win streak. The Eagles were able to go 6-1 with a loss to Glendale Community College, the Eagles fell just a few points short each set.
Eagles def. Glendale Community College 21-25, 23-25, 20-25 USUE leading players were Richardson with 12 kills, Ricks three aces, Simmons two blocks, McUne 28 assists and Ricks 13 digs.
Eagles def. South Mountain CC 25- 20, 25-15, 25-23
With a triumph win against the No. 6 ranked team, Richardson had 10 kills, McUne two aces, Nihipali 4 blocks, McUne 33 assists and Best with 13 digs.
Eagles def. Monroe College 25-23, 26-24, 25-15
With two close sets, the Eagles snatched another win as Bitter had 12 kills, McUne six aces, Simmons 2.0 blocks, McUne 31 assists and Best 18 digs.
Eagles def. Barton County CC 25-23, 25-17, 23-25, 25-12
After a four set game, the Eagles pulled through with help from Richardson with 13 kills, Ricks two aces, Simmons seven blocks, McUne 49 assists and Perry 19 digs.
Eagles def. Arizona Western College 17-25, 25-17, 25-20, 25-21 The Eagles lost the first of four sets against the No. 20-ranked team but were able to gain control with help from Richardson with 18 kills, Ricks four aces, Simmons six blocks, McUne 48 assists and Ricks 16 digs.
Eagles def. Eastern Arizona College 25-19, 25-23, 25-22
Leading players of the game were Nihipali with 11 kills, Nihipali three aces, Simmons four blocks, McUne 39 assists and Best 23 digs.
Eagles def. Pima Community College 25-19, 25-19, 25-17
In the Eagles last game of the tournament Richardson had 11 kills, Ricks two aces, Bitter six blocks, McUne 32 assists and Best 15 digs.
The Eagles head to another tournament, the CSI Starr Corporation Invite, Sept. 6 -7 in Twin Idaho, Idaho.
Coaches Danielle Jensen and Sarah Mafi
Head Coach Danielle Jensen is starting her fourth year coaching at USUE. Last year, Jensen coached the Eagles to a 17-10 record and placed second in the Region XVIII Tournament. The Eagles had four wins over nationally-ranked teams. Winning at the CSI Starr Corporation Invite in Twin Falls was a first in Eagles history. Before coming to USUE, Jensen was the varsity volleyball coach at Carbon High School and at Canyon View High School.
"I have really enjoyed this season so far. Last year we had a very successful season, placing second in our conference which has not ever been done before. Coming into this year we knew we needed to have a stronger preseason to push us into conference play. So far we have started the season off great and feel we are on track. Our record so far is 10-2 and have already reached the top 25 in the national rankings," Jensen said.
Sarah Mafi, a previous USUE womens volleyball player is an assistant coach for the Eagles.
"Sarah Mafi played for me for two years and is now assisting. It has been great having her on the coaching staff. She brings a different perspective and knowledge to the program that we have not had yet. She has a wealth of knowledge as a player and now as a coach has been able to get us to the level we are working towards," Jensen said.