In honor of Nellie Bly: investigative journalist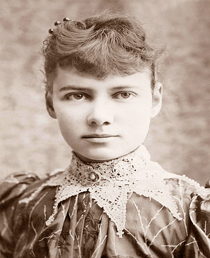 In honor of Year of The Woman, Utah State University Eastern is profiling women whose voice makes a difference. One of those voices is Nellie Bly, a journalist who made a name for herself taking upon the challenge to investigate New York's mental hospitals.
Bly, didn't have it easy growing up with her dad's passing and was unable to fulfill her studies due to her family's financial state.
At 16, Bly came across an article made by the "Pittsburgh Dispatch" and quickly noticed it's discrimination towards women. Bly wrote to the head of the paper expressing her disappointment. The editor was quite impressed with her, so impressed that he posted her letter in the newspaper and offered her a permanent job as a columnist.
Bly's job as a writer was to specifically write about women. Bly did her job well, but soon grew tiresome of women being her only topic. She took another job shortly after she moved to New York and worked for the "New York World".
Both Bly and the head of the "New York World" came together with the idea to investigate the mental hospitals in New York City. Although it was going to be a difficult process getting there, Bly, was up for the challenge. She started by changing her name to Bly Brown, rented a room in a woman's home and began to imitate those who seemed crazy.
The matron of the home noticed Bly, who then notified the police. The police took Bly to court, where the judge then pronounced her insane. Bly, was taken to Bellevue Hospital before being shipped off to Blackwell's Island where she spent the next 10 days before being released.
Her first story titled, "Behind Asylum Bars", was published two days after she was released from Bellevue Hospital. Bly, was pronounced an "overnight sensation" and as one of the top journalists as she continued releasing articles based on her experience in the asylum.
Bly's articles revealed the ongoing mistreatment that the patients received. For example the patients endured malnourishment, unsanitary conditions, neglectful/ abusive nurses and physicians, etc. Not to mention immigrants were deemed insane only because they were unable to speak English.
All of the ongoing problems that occurred in the care of the mental institutes improved after Nellie Bly's articles were printed.
Nellie Bly then continued by traveling around the world in 72 days, reporting on women's suffrage, working on the front lines of WWI, marrying a 73-year-old millionaire at 31, running a manufacturing company after her husband died and continuing her life as a journalist. If that's not a powerful/inspirational woman, then I don't know what is.
Bly was an example of not allowing circumstances stop her from pursuing her goals and pushing the limits. Bly had passion for freedom and the liberty to achieve whatever she set her mind to.