Welcoming new members of staff to Eastern: Eric Curwen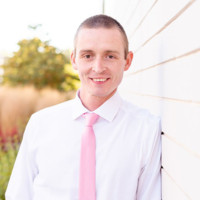 Alesha Lascaano Staff writer
Students living in the residence halls of Sessions, Burtenshaw, Aaron Jones (AJ) or Tucker might see a friendly face making important adjustments to the housing department. This new administrator is Eric Curwen, who joined the Staff of Utah State University Eastern on July 1 as the campus housing coordinator.
Curwen has been involved with residential life at USUE for years. After his freshman year living in AJ hall in 2012, he was introduced to the concept of being a resident assistant (RA) by his roommate. He applied and began his career in the housing department as an RA in Sessions and Tucker halls.
"I thought it was pretty cool to be a leader on campus," said Curwen.
He enjoyed the opportunity to help his fellow students so much, he went on to become a hall director in Burtenshaw and Sessions the following year. As compensation for his hard work, he received a room and meal plan, which Curwen said was worth all the effort.
These responsibilities, along with the management skills he picked up as a campus facilities and maintenance supervisor, prepared him for his current role as housing coordinator.
"I'm pretty content with where I am," said Curwen. "Everything I've learned pulls over to this job. Budgeting, leadership, it all helps."
Curwen believes this position to be the biggest responsibility in his career. Despite the demands of his occupation, he still finds time to work on his online MBA and be with his young family. Curwen's three little boys, all under the age of five, are always excited to help him with work, he and his wife are expecting a little girl soon.
"It has been pretty exciting," said Curwen. "There's lots to do, and it keeps me busy."
As the housing coordinator, Curwen oversees residential life programs, which improve the quality of students' college experiences while living on campus. He also supervises housing management through budgets and business updates, in addition to enforcing student conduct policies. Curwen is making progress with current projects in the housing department and brings new ideas and goals to the students on campus.
"I feel the transition has been good," said Curwen. "We are making good progress to accomplish more things."
One of the exciting ventures Curwen is undertaking right now is an improved online housing application procedure which will digitalize the entire process. By Jan. 2020, he hopes to have a system up and running that will mirror that of the Logan campus.
Students will be able to choose their own rooms and their own roommates. Roommate selections will be anonymous, but applicants will be able to see the interests and living styles of their future roommates based on their pre-application survey answers. The new system will make housing registration a smooth process for students who will transfer to the Logan campus after completing their associate degrees at USUE.
There are also plans for the installation of a new key system for the dorms. The $20K project will allow professional staff and emergency management enforcers to have greater control over the safety of on-campus students, as well as decrease the number of keys that are lost.
"I'm learning from the years of growing pains that Logan has had to go through," said Curwen. "Not everything is going to work, but what can work, we want to implement."
As a smaller goal, Curwen is overseeing the upgrade of the entertainment systems in the residential lounges. The 45" televisions with cable and DVD players are being replaced with 65" smart TVs. Curwen hopes the upgrade will encourage more student interaction.
"[Student involvement] is really what college is all about," said Curwen. "Get engaged with each other and with the programs. There is a lot of time and effort that goes into those programs, and it makes your experience worthwhile."
Curwen oversees the distribution of help and resources so each student can have fun and make memories from living in the residential halls that will keep them coming back. He loves interacting with his fellow staff members, including the eight RAs and three hall directors who currently serve campus residents, and encourages students to take advantage of the resources that the housing department provides.