Haunted house to donate to area food banks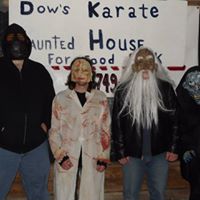 The season of giving is almost upon us, but Dow's Karate isn't waiting to get into the spirit.
A 14-year tradition, the local karate gym is hosting a haunted house. The proceeds go to the Carbon and Emery county food banks. They provide lower income families with proper nutrition and food assistance.
The haunted house will start on Oct. 26 and run until Oct. 31. The hours will be from 6 – 9 p.m.
The event is meant for all ages. It provides scares to older audiences and younger ones will have the option of going through with the lights on. It's put together for the entire family to enjoy while helping the local community.
Dow's karate students and his family will give their time to operate the haunted house during the six-day run, providing quality and a personal feel that is sure to simultaneously scare and impress its patrons.
The cost will be $5 per person or $3 per person with a non-perishable food item for donation. Either way, the community will be supporting the food banks through the donation prices.
The haunted house will be at Dow's Karate and Fitness, 110 N. Main Street in Huntington. If you aren't busy this Halloween, check out the event. For more information, visit dowskarate.com or call Dow's Karate (435) 609-3218.