Hart: assistant softball coach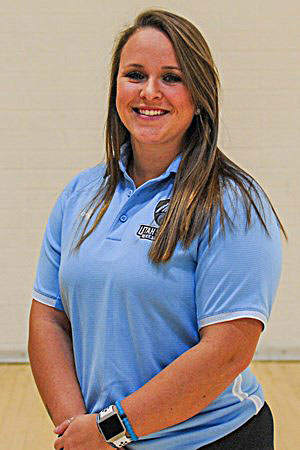 Alicia Cruz, sports writer
Coming from North Carolina is the new assistant softball coach and graduate assistant from Utah State University Eastern's athletic department.
Mary Hart came to campus summer semester to begin her graduate program.
While in college, she played the sport she loves, softball. For her first two years of college she went to Spartanburg Methodist Junior College. She finished her last two years at Limestone, where she played college ball.
Hart originally came to Price to work in the athletics department as a graduate assistant. Before long, exciting news came her way and she was asked to help coach the softball team.
She wasn't going to let the opportunity go away so she accepted the position. She has enjoyed it so far and has learned a lot from the experience. She likes the mutual respect she feels from all the women on the team. She has become a person the team members can go to for celebration or advice.
She says she came to Utah to experience new parts of the country. At times, she feels homesick, but the job keeps her mind busy.
As for the softball program, Hart thinks the team is looking great this year, she believes they will do well. She has faith in their odds for the upcoming season. "We have a great group of girls who all have lots of talent to offer."
A goal for herself is to assist USU Eastern athletes on the field and give them a great experience. Hart wants each athlete to leave better than when they came.
Hart is proud of herself and how far she has made it in her life and her career.
"I honestly didn't think I would graduate college just because I hated school." said Hart. "I definitely didn't think I would make it through all these years to get where I want to be and where I am in life right now."