A decade of enrollment ups and downs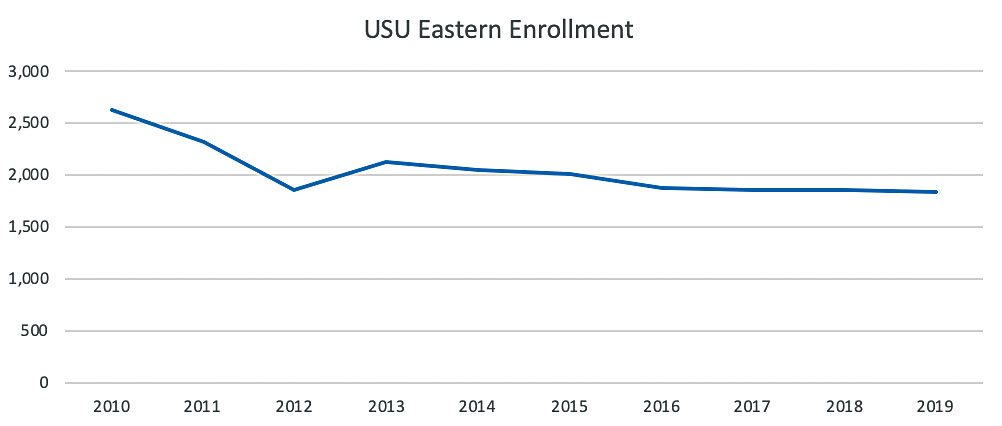 It's been almost a decade since College of Eastern Utah was merged into Utah State University and became USU Eastern. New sports and medical programs were added as well as upper division and graduate-level classes. One would think this was great for the campus, but in reality, USU Eastern dropped 748 students from 2010 to 2019.
Full-time enrollment at Eastern dropped 395 students in the same time period while part-time student enrollment dropped 353 students.
In 2010, USU Eastern had 2,634 students; it now has 1,886. Its full-time student enrollment in 2010 was 1,401, it now sits at 1,006. Its part-time student enrollment went from 1,233 in 2010 to 880 in 2019, according to the USU.edu/aaa website.
This is not the case for enrollment across the Utah System of Higher Education. In just one year, fall semester 2018 to fall semester 2019, Utah Valley University grew 1,797 students, topping at 41,728 students.
Weber State University had the second-best enrollment growth with a 1,397-student increase, topping at 29,644 students.
Dixie State University had the third best enrollment growth with 1,243-student increase, topping at 11,193 students.
Southern Utah University added 1,028 students to its campus, making its enrollment 11,224 students.
Salt Lake Community College added 361 students to increase its total enrollment o 29,517.
Three public institutions of higher education lost enrollment numbers: the University of Utah lost 171 students, Snow College lost 131 and USU lost 122 overall. The U of U's enrollment is 32,852, Snow Colleges is 5,383 and USU's is 27,810, according to the Utah Board of Regents.