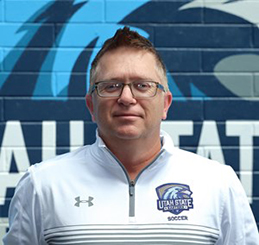 After six years, head soccer coach, Ammon Bennett, resigned from his position at Utah State University Eastern over the holiday break.
He accepted a job at Casper College in Wyoming. It is a better paying position and he felt like it was a good time to take the job, USUE Athletics director Scott Madsen said.
He has been a huge asset to Eastern over the past five years. He built the soccer program from scratch, Madsen said.
"I hate to lose him, he's a great guy, great coach, knows what he's doing. Kids love him, it's going to be extremely difficult to replace him.
"It's hard when somebody leaves to replace them when they come in and know how the system runs. They've done a good job at helping create the atmosphere we've been looking for over here and the culture that we've tried to create over the past few years," Madsen said.
"With what we've done and what we've created, it's going to be hard to replace him.
"He's established it well enough that I feel like we can move forward and just continue growing with what he's created." USUE is working at finding a replacement. Men,s soccer coach, Jared Woodhouse, is in charge of the program until a replacement is found, Madsen said.