Toluono hopes her team kicks butt in the conference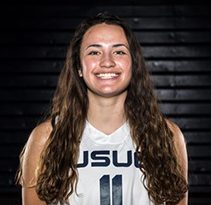 Morgan Toluono does it all and is all over the court for the Utah State University Eastern womens basketball team.
Toluono, a starting guard, helps offensively as well as defensively, and is a huge asset to this year's team.
Originally from Taylorsville, Utah, she was a four-year starter for Taylorsville High School.
Being a sophomore at USUE, she had success last year as a freshman. She was a starter for the team and was named second team all-region.
Her favorite memory while attending USUE is simply "just being with the girls (teammates)."
Toluono first began playing basketball when she was 6. She was also involved in other activities including volleyball and dance. She started to fall in love with the game after seventh grade .
Her role model and biggest inspiration is her older sister Kaitlin, who played for the Lady Eagles 2016-2018.
When talking about her sister, Toluono says, "we've been pretty close growing up and she's always helped me through basketball." She wears #11 not because it's her lucky number, but because in seventh grade, she wanted to pick #10 because that's what Kaitlin wore, but there wasn't a 10, so she "picked #11 because that was the closest number." Since then, she's always been #11.
Growing up, Toluono had a supportive family. "My dad pushed me to be the person I am today and so did my mom. They always supported me with my decisions."
She grew up with three siblings: an older brother, an older sister and a younger sister. She was close with all of them and was also close with her cousins as well.
Something she's always wanted to do, Toluono's response was, "start a family," which reflects highly on the type of family environment she had growing up.
Toluono hopes to become a physical therapist assistant. "I want to be a PTA because it's related to sports and I've always wanted to be one growing up."
She's planning on getting her associate degree after this semester and moving on to a bigger school. She has been recruited by a couple schools to continue her basketball career and says that is something she wants to do.
The Lady Eagles are 17-2 overall with a 2-0 conference record. Toluono averages eight points a game along with six rebounds.
She brings high energy and is a great teammate. She has high hopes for the team for the rest of the season.
Simply stated, Toluono plans for the team "to kick butt in conference and go to nationals and kick butt there."
Something that has helped Toluono in her life and something she'd like to pass on to others as a word of advice: "be yourself, and don't let anyone tell you what to do."