Getting to know new SB Head Coach Shelby Shurtliff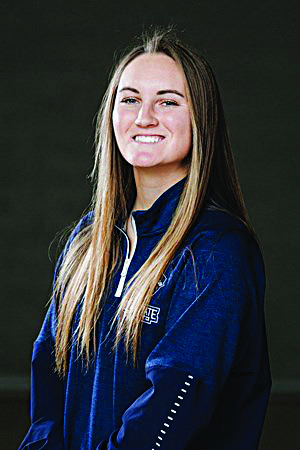 New softball Head Coach Shelby Shurtliff is entering her first season at the helm of Utah State University Eastern. After declining the offer to be an assistant coach last year, Shurtliff reconsidered and accepted the second offer. Shurtliff ended up coaching the Eagles through the last few weeks of the season, little did she know she would be offered the Head Coach position permanently. 
Well versed in the game of softball, Shurtliff began softball at a young age. "I started playing competitively when I was 8. I played on a 10 and under team and sat the bench," she snickered.
Shurtliff is from Santaquin, Utah, where she attended Payson High School and played second base and shortstop for the Lions. She was coached by Brent Shurtliff, her dad.
She said, "my dad was super hard on me and harder on me than anyone else, but looking back it made me tougher."
Other coaches and mentors Shurtliff admires include Tona Graff, Jody Beck and Sandy Wall, who have shaped her into the person she is today and helped her achieve her athletic successes. "I had great coaches and great people that influenced me," she said.
From her high school experience she will never forget the friendships made, the bus rides and the excitement of the game. "I'm still good friends with girls I went to high school with and not a lot of people can say that," she said. "One time when we played Carbon High School at state, we got into a fight, that was pretty memorable."
After high school, Shurtliff attended Salt Lake Community College. After a redshirt season, she played shortstop and third base for the SLCC. She helped the Bruins win the SWAC with only two losses plus regionals and helped the Bruins reach the NJCAA National Championship.
"I loved my time at Salt Lake and I don't regret it at all," Shurtliff said. "However, it was a tough decision to leave, but I'm glad I did for the position I am in right now."
Shurtliff transferred from SLCC to USU Eastern in the fall where she played another seasons of softball positioned at third base. She was an all-conference infielder for the Eagles in 2018. "My favorite memory is when we split with SLCC at their place after I transferred from there." Shurtliff then spent the 2019 season as an assistant coach for the Eagles.
Shurtliff earned an associate of science degree from SLCC. At USUE she is majoring in integrative studies and human studies.
"In five years, I see myself out here, hopefully done with my master's degree or getting it. I hope we have a field and an established program. I plan on staying here for awhile and building something before I leave," she said.
Shurtliff has looked up to her mom as a role model in life. "She is a great person who has a lot of patience and is so nice to everyone, sometimes I don't know how she does it." Her grandma has also been a great influence in her life. Shurtliff strongly holds family values, being close to her family is a perk of the job and being an aunt to her five nieces and nephews is one of her greatest achievements.
When she's not working hard with the team or busy with schooling, you can find Shurtliff playing spikeball or racquetball. "I'm probably the best spike ball player there ever was," she said. If anyone is looking for a challenge.
Shurtliff is always seen putting smiles on other's faces and cracking up jokes. She's a good friend to people, "I think that's something that's hard to come by these days," she said.
She has a deep compassion towards everyone she meets. "I care about people and it can be a strength and at times a weakness." But her main weakness is those killer early mornings.
She was once told "how you do anything is how you'll do everything," which is something she now lives by. She suggested student athletes and students in general to "use your resources, go to the library, use your tutors, don't wait until the last minute, but also don't be afraid to ask for help, always show up and try to build a relationship with your teachers."
USUE softballs goals for this season are, "we strive to be one percent better here so we can be one percent better out there." They also hope to have a winning record and place in conference. Shurtliff said, "I want them to be good people on the field and good people outside of softball."
For this season the Eagles competitors are rivals College of Southern Idaho and SLCC. "The girls have already put in so much work, I think we are going to upset a lot of people and it's going to be fun to watch." As a new coach, Shurtliff believes that energy and consistency is key. "I'm really intense at practices but in the game I'm very calm." Shurtliff said, "trust the work you put in and go have fun."
Advice for the new baseball Coach Kirk Haney, Shurtliff said, "lead with love."
"Shelby has always been a student of the game. She grew up watching her sister's play and her father coach and has been immersed in softball since she was little. She was a utility player and could play any position we needed. She knew what each position's job was and what they needed to do in each situation.
Shelby is a competitor and wants to win. She believes that her team can win on any day if they prepare and give it their best. But as a player and coach Shelby is an optimist and she is always making those around believe they are best. Shelby does everything she can to make those around her better athletes but most of all better people," said Payson assistant coach, Jody Beck.
"Shelby was a great athlete that brought a desire to win for her team each day. She led her team with her hard work and passion for the game. She was a fun athlete to coach. She was a spark plug for sure," said retired Payson assistant coach Sandy Wall.
"She's not just a goal setter, she is a goal achiever. When she is focused on something whether it's a team or teammates she will strive to make them their best," said her dad, Brent.