Eagles' baseball team gives back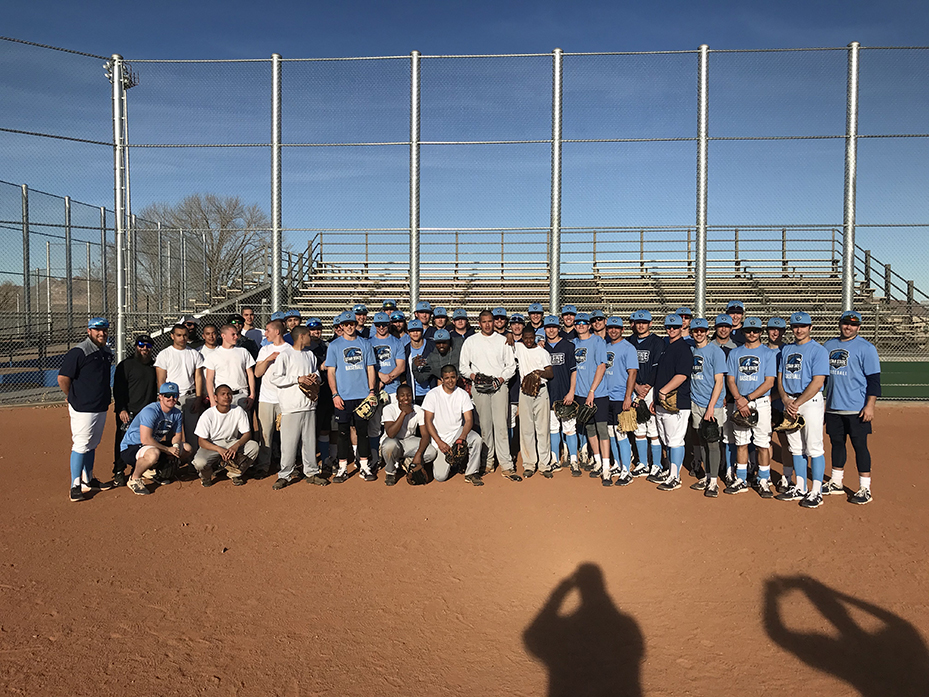 The Eagles made an impact with the first game of the season under Coach Kirk Haney on Jan. 30, a the Manny Guerra Memorial Border Battle in Henderson, Nev. This was not the Utah State University Eastern Eagles only monumental impact over the weekend.
The Eagles had the opportunity to give back to the game they love.
South Mountain Youth Camp is a center for young men from the ages of 14 to 17 who made some poor choices in their lives. These young men have the unique opportunity to play baseball, a luxury that many troubled youth never get. Many of these boys have never played baseball, but all of them were excited for the chance. This is where Eastern's Eagles stepped in.
After their first game of the 2020 season, the Eagles took time to spend with these young men, to provide some instruction to these inexperienced boys. The SMYC coaches introduced their boys and got to spend the day bonding over the great game of baseball.
The Eagles and coaching staff took time working on all the fundamentals that coincide with baseball; in-fielding, pitching, catching, outfield and hitting. Haney said, "We may come from different backgrounds, but through baseball we can come together as one group and learn from each other."
Coach Luke Haney said, "Above all else, I think it's great for our guys to experience giving back and remind them how fun baseball is. And awesome for these young men to have someone to look up to."
The afternoon was filled with laughter, smiles and jokes all around. Sophomore Drew Staley said his favorite part was "Seeing how happy and excited the kids were. It was awesome because we had just lost and were feeling down, but by the end we were all joking around with the kids and having a great time."
Drew Staley commented on how he felt when he found out Eastern wa volunteering with these boys and how he felt when the day was over. Staley said "When I first found out we were volunteering with them I thought 'alright, this will be interesting.' I really didn't think they would be very interested in it." Staley said "I was shocked to see their excitement! The kids were very respectful and just so pumped to learn and hang out with us."
Sophomore Karter Pope learned from the experience and Pope said, "I learned to never judge a book by its cover even if those boys may have messed up in their lives. I think after spending the day with them they know that you can change for the better."
Pope said his favorite part was "To see the kids want to learn more about baseball and how they actually tried the things we told them to do." "They all had great manors and by the end of the day they felt like part of our team." Pope finished with "By the end of the day they saw potential in themselves that they never thought they had."
Both teams learned from each other, laughed together and got better that day. It was an awesome experience for all involved. Sophomore Dylan Rodriguez said his favorite part of the afternoon was "when they were taking batting practice and we were able to talk to them and get to know them more and their stories."
Rodriguez added, "It was eye opening to see the different backgrounds of the kids and it made me see life from a different perspective and I'm grateful to teach them the game of baseball."
The Eagles are a team filled with high character and great young men. This was a perfect opportunity for them to be able to utilize their skills and to make an impact on people in need. Coach Haney added, "This is something we want to continue doing. Whether it be volunteering with groups like this or shoveling snow home in Price, we want to showcase our great young men on this team, while giving back to the community."
You can learn more about the 2020 USU Eastern baseball team online at usueasternathletics.com/sports/baseball
You can also follow the teams games and other activities by following their FaceBook page: USU Eastern Baseball, where the games will be live streamed.