USUE soccer program brought student to Price all the way from Wales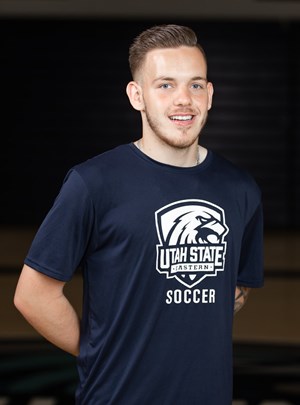 Rhys Picton has played football since he was 5 and been a goalkeeper since he was 7. In the States, Americans might say soccer and goalie, but Rhys is from Wales, a little country on the same island as England.
Picton is from Cardiff, the capital of Wales. He's at Utah State University Eastern to play goalkeeper for the USU Eastern soccer team.
He picked USU Eastern not only for the fullride scholarship, but also because of the photos he saw while doing research. The campus "really appealed" to him. "It looked amazing," he said.
Wales is beautiful in its own right, but Picton says its biggest mountain is like a "glorified hill" compared to the Rockies. "It looks like a painting," he said of the towering landscape.
Soccer might not always draw the crowd it does in Britain and Europe, but Picton isn't bothered. "When you go to a basketball game, you see more numbers," he said, "because it's convenient. It's indoor, you can get food." Soccer is more dependent on the weather, but Picton always loves to play. "Even if there's just a man and his dog, I still go into the game with the same mentality."
His left arm is covered in immaculate tattoos. There's a lone wolf on his shoulder and a dreamcatcher below it, then an impressive clock, a beautiful face, and an open rose. He has more on his chest and a Welsh dragon on his calf. Ask him about the tattoos and he'll explain how each leads into the next, like the story of his life told through symbols and images.
Picton's mother bought him a dreamcatcher when he was young, and it has hung above his bed ever since. It wasn't until more than a year after he got the tattoo on his shoulder that he found a surprising detail he had never noticed before. There's a wolf above the dreamcatcher in his room, just like the one on his arm.
Now he's a lone wolf, too, on his own nearly 5,000 miles from home. He misses his family and the culture in Wales, but the lack of partying here allows him to stay "more focused."
Picton is an active man. Along with playing soccer he's a dedicated boxer. He has a fight coming up this year on his 21st birthday, March 28, in Salt Lake City. Until soccer season starts up again, that will be the best place to give Picton an audience bigger than "a man and his dog."