Baseball wins home series against Dawson CC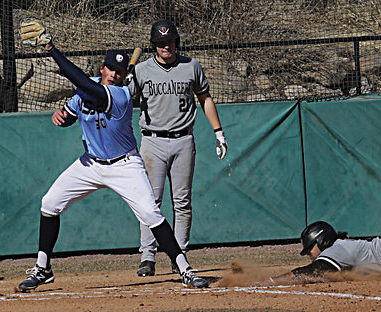 The Utah State University Eastern Eagles took the field for the first time of the season on their home turf at Colosimo Carlson field in Price, Utah on Feb. 21, 2020.
The Eagles home opener was set for noon on Friday versus Dawson Community College, from Glendive, Mont. USU Eastern entered the weekend with a 2-6 record on the season, DCC came in at 0-6.
USU Eastern took game one of the four game set by a score of 5-3. The Eagles scored a run in each inning other than the first, and was able to pull out the victory. Karter Pope got the win on the mound tossing a complete game gem, scattering 4 hits across seven innings of work. Pope recorded 9 strike outs in the game.
Game two was more of the same for the Eagles, winning by run rule in the seventh inning with a score of 17-7. USU Easterns nine run fourth inning rally was enough to silence the dugout of DCC. Hayden Brock was the winning pitcher, Kade Hancock was awarded a save. First-year player Ryder Peterson added 5 RBI's and another homerun to his already impressive preseason. Dylan Sanchez also had 3 RBI's.
Game three of the series was a pitchers dual. The Eagles dropped the heartbreaker 1-0. Sophomore Conner Udy threw an incredible game for the Eagles striking out 13 in seven innings, scattering 5 hits. USU Eastern failed to provide Udy with run support and lost 1-0.
The series was capped off in style by the Eagles. USU Eastern put on an offensive showcase in game four plating 14 runs in five short innings. The Eagles has 10 hits and 8 walks which propelled them to victory. With Ryder Peterson and Dylan Rodriguez adding 2 RBI's a piece. First-year player Dawsen Hall came up in the clutch again hitting a game ending grand slam homerun. This is Hall's second game winning hit of the early season. Sophomore Parker Buys got the win on the hill with 5 innings pitched 8 strikeouts and only one earned run.
The Eagles finished the weekend with a 3-1 record running their total to 5-7. USU Eastern has already eclipsed the season total in wins from last years team and is nearing many other offensive and pitching stats as well.
USU Eastern will finish the preseason with the Utah State University Club Team on February 28-29. It will open the SWAC conference at home versus Colorado Northwestern Community College on March 6-7.
Luke Haney