The life of basketball star Harley Carlisle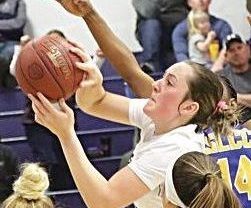 From Preston, Idaho, and three-year starter for Preston High School, Harley Carlisle, a sophomore, is the starting center for the womens basketball team at Utah State University Eastern.
Carlisle lived in Preston her whole life and coming to USUE helped her learn "how to live on my own and how to handle problems that come my way."
Having a successful career in high school, Carlisle earned first-team all-state three yearsplaying varsity. She played softball, volleyball and ran track and earned all-state in all those sports as well.
Her senior year of high school, she was named post player of the year, MVP and female-academic Athlete of the Year.
Carlisle started playing basketball when she was in the first grade. Her older siblings played basketball and influenced her to play. "I fell in love with it as soon as I started."
"I was motivated to keep playing basketball because it was my escape from the world, and I could express myself in a positive way," she said.
Having the desire to play college basketball, Carlisle "was always told that [she] wasn't good enough, or tall enough." It wasn't until her junior year of high school that her coach told her she could play on after high school and helped her through the recruiting process. That is how she ended up at USUE.
Being successful in other sports throughout high school, Carlisle chose to play basketball in college because, "basketball has always been my favorite sport."
When coming to USUE for a visit, "I instantly fell in love with the campus and the coaches." USUE reminds Carlisle of home and "it was the best decision I ever made."
Carlisle has an older sister, Shania, and this is who she considers her biggest role model.
"Shania has always done great in school and sports and that made me want to do the same. She has always supported me with whatever I am doing and always set an amazing example for me. She is truly the greatest person I know."
For Carlisle, school has always come before athletics. She is part of the National HonorsSociety at USUE and ended last semester with a 4.0. Though it was a struggle at first, Carlisle found a balance between school and basketball.
Carlisle plans on becoming a health teacher along with being a basketball coach. She's been getting recruited to continue her basketball career and if she chooses not to play on, she plans to attend Idaho State University.
"My biggest goal in life is to graduate college with my bachelor's degree. Neither of my parents did that, and they always pushed me to get that goal."
This being Carlisle's last year at USUE, "I would not change my experiences at USUE for anything else. I am so thankful that I have had the opportunity to come here and to be influenced by all of the amazing people in Price, Utah."