Busy does not do justice in describing Nelson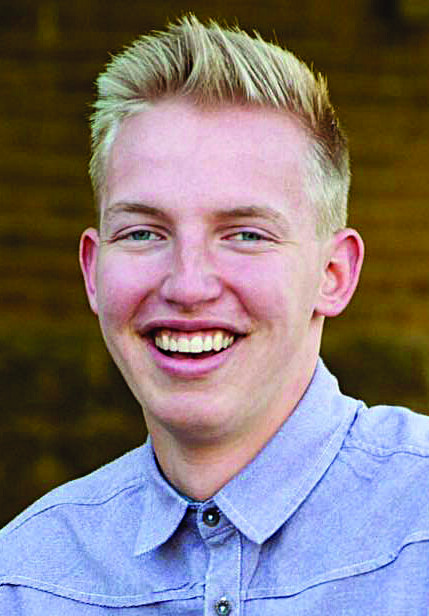 Being captain of the student ambassadors program, president of the Church of Jesus Christ of Latter Day Saints student association and a TRIO tutor makes McKay Nelson one of the busiest students on the Utah State University Eastern campus.
Nelson was born in 1999 in Riverton, Utah. He has two brothers and two sisters. Nelson grew up with awesome parents who taught him to magnify his talents and encourage him to always be active, creative and passionate about the things he loves.
He attended Riverton High School. During his Sophomore and Junior years he played on the JV football team. He also participated in various other school activities. Because of his involvement in school, he decided to run for Student Body Officer as a junior. He became the student activities and schol spirit student body officer. Nelson's role was to lead and plan activities. He had to be the hype man at all school events. Nelson loved every second of being an officer. He fell in love with making new friends and knew it was something he wanted to continue.
Because he was a member of the student government, he was able to attend a leadership training at Utah State University. This is when he became passionate about USU. He adored the beautiful campus and the people. It was where he felt he was meant to be.
The leadership training was the first time Nelson was introduced to the Ambassador Program. He was told all about it and the amazing scholarship opportunitythat comes with it. From that day forward, he was determined to become a USU ambassador. A few weeks later, Nelson was interviewed for an Ambassador role at Utah State in Logan.
He received a call and was told that they wanted him to apply at USU Eastern in Price. A few weeks later, he made his first trip to Price for the interview. He found out that he was accepted into the Ambassador Program.
Nelson fell in love with the program immediately, he loves the feeling of a family away from home. He loves sharing his passion for Utah State with everyone. Nelson loves meeting new people and having an impact on where future college students decide to go to school. He believes that where someone decides to go to college can have a big impact on their life, so he loves being part of that decision.
He works alongside his mentors Kristalyn Hepworth and Cameron West to ensure that the Eastern team is unified and thriving to be the best they can be. He also works a lot behind the scenes creating meeting agendas and striving to meet the needs of each ambassador.
Not only is Nelson involved as an Ambassador, he is also a part of the institute council which is associated with the LDSSA at Utah State Eastern. This club was created to help students feel comfortable and learn about the teachings of Jesus Christ through the scriptures. Nelson helps run the meetings and plan activities as well as lunches.
Nelson is working at the TRIO student services office as an academic tutor. He tutors Math, English, Biology and Spanish. He loves to help students grow and understand these topics. Nelson is currently a Sophomore majoring in General Biology, he plans to finish this year at USUE and then do two more years at the Logan campus to finish his degree. After finishing his degree he plans to go to medical school to become an MD and later go on to become a Geriatric Physician.