CEU History through the Eagle: Homecoming 1984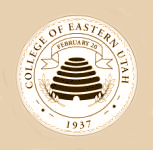 It was 1984 and big events were going down, Indira Gandhi was murdered, the Indian army attacked the Sikh Temple and AIDS broke out. In the Nov. 16, 1984, edition of The Eagle, there were also a lot of big events going on.
The front page featured a picture of homecoming king and queen, Steve Eden and Monica Leonard. The main article was, "governor-elect reflects down to earth feelings at recent CEU forum."
In this article, it talked about how Gov. Norm Bangerter and his wife visited the CEU campus during the last week of his campaign to become governor, which he won. In a quote, he said, "I was raised in Granger and it was like Price and Huntington. I could go out and shoot my .22 rifle in any direction and not worry about hitting anyone or thing." He was the 10th child of 11. He attended Cyprus High School on the west side of Salt Lake City. After high school, he attended the University of Utah and Brigham Young University and eventually went into the construction business.
In 1974, Bangerter decided to run for the Utah House of Representatives. He went home and made sure it was okay with his wife, which it was. He ran and was successful and re-elected four more times. This launched him into his political career and helped him secure the Governor's Mansion in Salt Lake City.
In an article called "Art Center dedication set for Friday," talked about an open-house dedication of CEU's Three-Dimentional Art Center on Nov. 16. The guest speaker was Dennis Smith, a noted sculptor, on the board of directors for the Utah Arts Council and chair of the visual arts panel for Utah. A free demonstration by noted Utah print maker, Jenni Christensen, was given on colored etchings. She was also a part-time faculty member at BYU where she taught etching serigraphy.
The building cost $250,000, 5,000 square feet and features classes for three-dimensional and two-dimensional art. The entrance to the building is on the East side of it so it faces into the center of campus and enhances the beauty of the fountain plaza. It is now the One-Stop Center.
An article called, "One is never too old to go to school," which talks about how the CEU student body is made up of a significant amount of older students who do the same assignments and tests as the younger students. These older students were afraid of not being accepted into the regular student life.
One student, Sandra Jeffs, said "No matter how old you are, the same fears apply. The fear of homework, projects and especially the fear of taking tests." Another older student, Carol Martinez, said, "Being an older student in the classroom, the younger students look up to me as a mother-type. You know, we should get better grades and such, that's hard."
The article also discussed how there should be activities on campus that all could enjoy. There were 314 students over 30 attending CEU in 1984. They struggle with assignments and tests just like a younger student would. One older student said it's harder to come back to school later, so do it when you're younger and just out of high school. Take their advice, they know what they're talking about.
An article called "Women's basketball team faces inexperience as it pursues quest for 1985 championship," talked about how the 1984-1985 Lady Eagles basketball team is facing a lack of experience. "Compared to last year, this team is not as experienced. I have one sophomore and 10 freshmen," said head coach Jean Brooks. The one sophomore is Connie Atkinson, who was named all-conference in the 1983-1984 season.
The Lady Eagles had to compete with the previous year's team record of 11-10 overall and 6-4 in conference play. They also tied with the Dixie Rebels and qualified for the Arizona Regionals.