Dotson: role model extraordinaire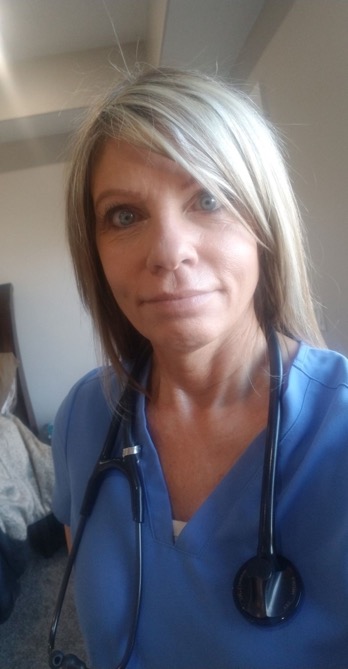 One of the busiest women on campus, also has one of the longest job titles on our campus. Laura Dotson is the Utah State University Director of PN/RN Nursing Programs.
Dotson is a graduate of the CEU nursing program and in 1995 received her RN licensure. She has eventually continued her education and earned her BSN and MSN in nursing. She was born in Rifle, Colorado, moved to Price when she was 12 and has been here ever since. Married with two children, she also has two step children she adopted.
Her family enjoys being outdoors and doing things together, especially going to Lake Powell each year. In her free time, she enjoys reading and listening to books. Her other hobby consists of running and has completed a half-marathon. She also uses running as a coping mechanism to de-stress from her busy life.
Her favorite movie is, "Oh The Notebook of course!" This is why she thinks she loves geriatrics so much as a nurse. Dotson truly respects the elderly population and enjoys working with them as a nurse.
Her greatest accomplishment she said, "I think it will be when I have my doctorate. That will be my greatest, but in the whole scheme of things, I think getting my bachelor's degree felt like the biggest achievement." Dotson said she was a nurse for 15 years before she went back to get her bachelor's degree.
As if it was not enough to be USU's Director of Nursing, Dotson is working on her doctorate degree and hopes to graduate in spring 2022. She is enrolled in the DNP program at the University of Utah in Salt Lake. Although Dotson is a busy woman, she said, "No matter what my title is, or how many abbreviations I have after my name, I will always, first and foremost, be a nurse."
In describing her job, she is the director of the statewide PN and ADN nursing programs. "I'm over Blanding, Tooele, Uinta Basin, Price, Moab and Cedar City. Logan has its own program and I work really closely with them, but I am not over them." Dotson is in charge of administrative duties and keeps the nursing programs accreditation up to date. She is also in charge of teaching pharmacology at the Price campus. Her other duties consist of a lot of marketing and effort to get students into the nursing program.
Her thoughts about pharmacology are intriguing. "It's just amazing to me and love getting to learn the intricacies of how the body works. Plus how it can be manipulated by medications. It's cool how the human body works and reacts, plus how we can cure diseases and treat chronic conditions by manipulating what the body already does."
Dotson's favorite part of her job is interacting with the students. "Seeing the students succeed and seeing the program succeed is the best part." She loves to see the students out working in the community once they have graduated as well.
COVID has been a popular subject this year and affected a lot of people. Thinking about COVID through the eyes of a nurse, she said, "I think anybody in any kind of healthcare is just as lost about how to fight the virus as the public, and don't think we know anymore than anyone else." Dotson thinks that COVID is real and believes that using masks is beneficial.
Dotson believes the biggest thing nurses can do during this pandemic is to be a role model to others. This is demonstrated by "following the rules, and wearing personal protective equipment."
She talked about how nurses play a big role in being an advocate, and that's another big way nurses can impact the patient's life. Nurses are always trying to keep their patients safe and planning for the unexpected to happen.
Dotson describes nurses as, "The quiet heroes, they work behind the scenes all the time. We want to help people, we want to do our best and we're going to work those double shifts just to take care of our patients." Nurses can have all of the knowledge in the world, but without the attribute of caring for others, nursing can be hard. Dotson said, "If you don't care about people, you're the worst nurse ever."
Nursing is a hard and complex field of study and takes a lot of hard work and determination. You also have multiple patients' lives in your hands to worry about, so it's a very important job.
Her advice to give to a future nurse is, "It's a really good field and you've made a good choice, but you really need to know what you're going into. There's so many different choices as well.
You need to expect to put your life to the side for a couple of years. Two years is going to come no matter what, so you might as well just put your whole heart into it and know that the outcome is going to be amazing and you've chosen a great career."