Cheer team hosts 2021 showcase: a year of athletics in quarantine, COVID- cancelled games and social distancing define the 2020-21 season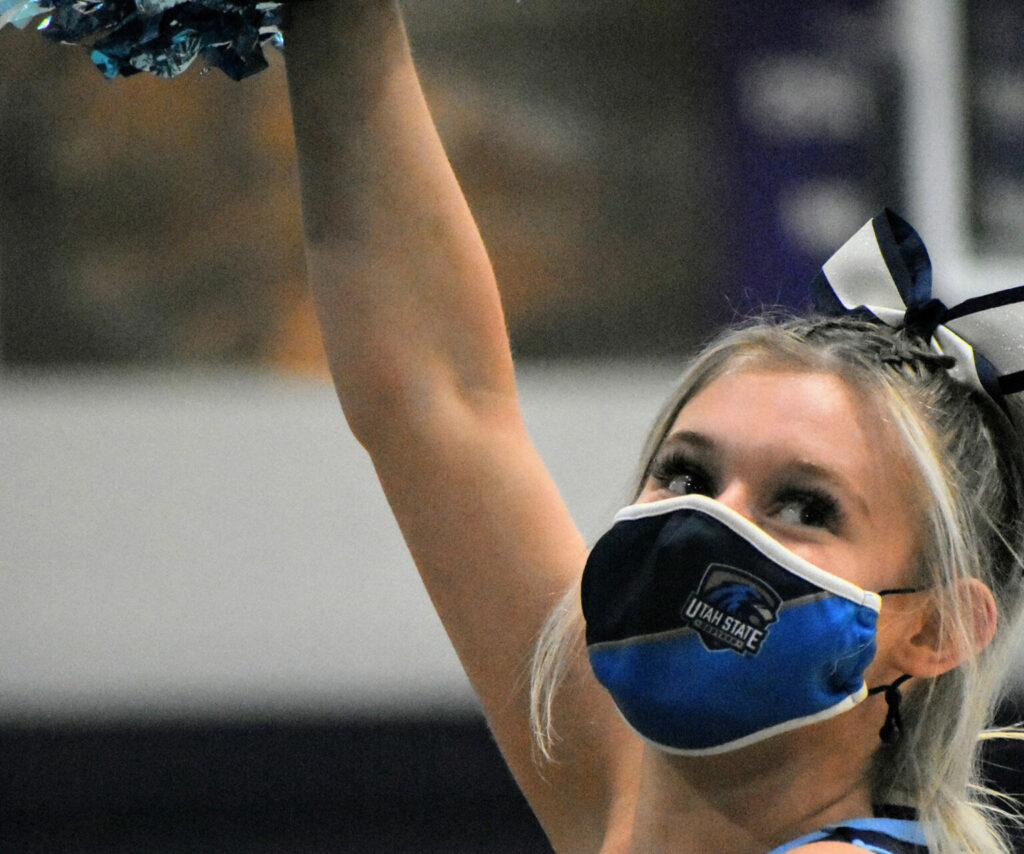 The end of year showcase for USU Eastern's cheer team is April 15 at 6 p.m. in the BDAC gym. The team of 12 are working hard to prepare routines after their showcase was canceled last year due to COVID-19. Team members say they have an exciting showcase prepared and are excited to present their dedication to their routines.
Grace Callister, captain of the cheer squad, said, "I am proud of how fast we've been able to get down routines." Co-captain, Brooklynn Flamm, added, "I'm proud of everyone's hard work. Especially with our COVID routine. We only had a few days to put it all together, and it looks really amazing."
Dance captain, Lauren Janes, said, "I'm proud of the obstacles we've overcome with the pandemic and that we still were able to have a season." Haley Baggs, also dance captain, added, "I'm proud of how everyone is able to push through routines and cheer each other on."
Logan Kay, the fitness and conditioning captain, said, "I'm so proud of the progress everyone has made as a team and as individuals in stunts, dances and tumbling. Especially with the odds stacked against us."
Despite working tirelessly the past couple of months on their showcase and game day material, the squad has still been able to have fun. "My favorite memory this year was when Logan did his tumbling pass, and his beanie came off to reveal his purple hair! He then tried to hide it from dance team coach, Brandi [Johansen]." T'Ann Passerella, first-year member, shared.
First-year member, Naomi Mantz, said, "My favorite memory was when we all hit our COVID routine, and we all were so happy after."
Destiny Kutkas, first-year member, said," I love when Olivia [Sorensen] randomly breaks out dancing every five seconds during practice."
Coach Kelley Bradley and her team are thankful to have the opportunity to present a showcase this year and are proud of their progress. They had a successful season and invite everyone to celebrate their success with them at their 2021 showcase.
Bradley said, "I am looking forward to this team getting the chance to present their skills at their showcase. They deserve it."
Follow @usueasterncheerteam on Instagram to stay updated on details regarding their showcase on April 15. Upcoming events for the team include tryouts for the 2021-2022 season on May 7-8 in the BDAC gym with the time TBA. For more information about tryouts, go to www.usueasternathletics.com.