James & the Giant Peach opens this weekend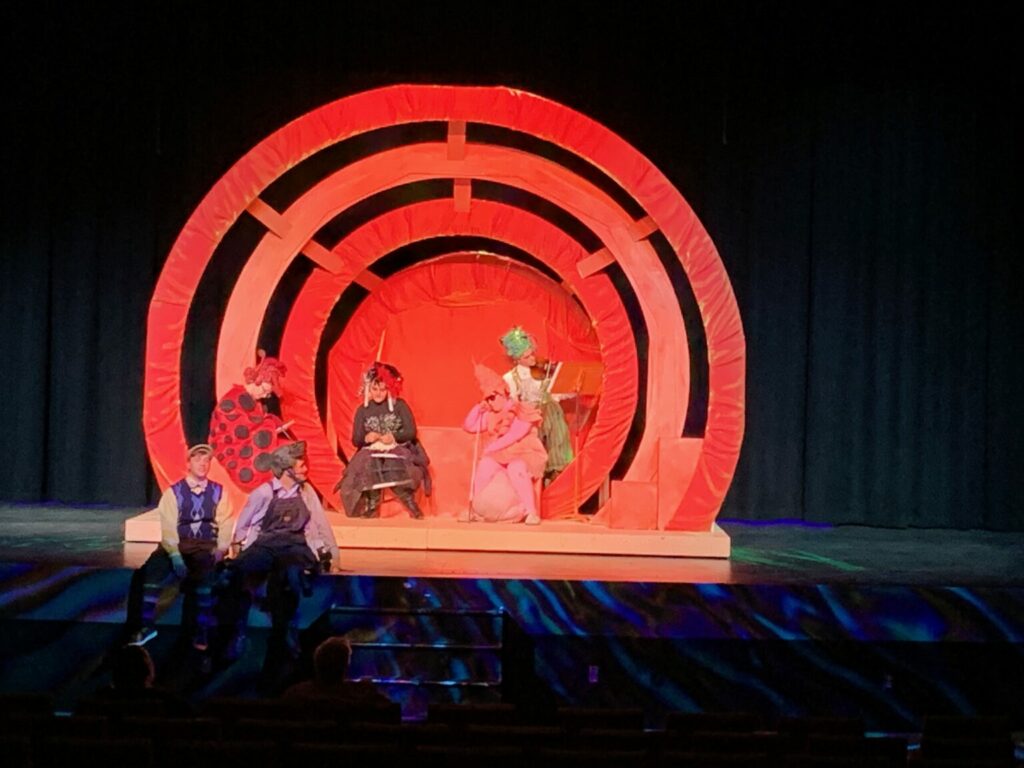 COVID stopped all theatre in March 2020, brought back in 2021
The production of James and the Giant Peach was supposed to open on the Utah State University Eastern Geary Theatre stage spring semester 2020. It was cast and the set and costumes were under construction until COVID-19 closed theatre throughout the world. One year later, new cast members were added and it's ready to open from April 8-10 and 14-17 at 7:30 p.m. in the Geary Theatre.
James and the Giant Peach is taken from a 1996 musical fantasy film directed by Henry Selick and based on the 1961 novel of the same name by Roald Dahl. It was produced by Tim Burton and Denise Di Novi, and starred Paul Terry as James.
The plot is about James Henry Trotter as a young 8-year-old orphan whose parents were devoured by a rhinoceros, forcing him to live with his sadistic and domineering aunts Spiker and Sponge.
He dreams of seeing New York City and visiting the Empire State Building, as his parents wanted to do. After rescuing a spider from his hysterical aunts, James meets a mysterious old man who gives him a bag of magical "crocodile tongues" before disappearing.
On his way back inside, James stumbles and drops the crocodile tongues near an old peach tree. A colossal peach grows on the tree, and Spiker and Sponge exploit the peach as a tourist attraction. James picks up litter at night and finds an entrance into the peach's interior through a tunnel that forms when he takes a bite from a peach.
Within the pit, he encounters and befriends a group of human-sized anthropomorphic insects: Mr. Grasshopper, Mr. Centipede, Ms. Spider, Ms. Earthworm and Mrs. Ladybug. As they hear Spiker and Sponge searching for James, Centipede cuts the stem connecting the peach to the tree and the peach rolls away into the Atlantic Ocean.
Remembering his dream to visit New York City, James and the insects decide to go there. As the group arrives in New York City, they are attacked by the tempestuous form of the rhino that killed James's parents. The plot continues to evolve with New Yorkers becoming his friends and family and everyone's lives change.
Production manager director Brent Innes was excited to bring out all the latest in technical and lighting features in the production. "We are pulling out all the effects and toys."
"Finally after a full year we get to put on this thrilling and wonderful show! It's been a long time in the making and I have enjoyed every minute of the process. And super excited to be on the stage for once! Constantly doing the tech side of shows, it's been fun to see how the acting side works," said Taylor Karns who plays James.
The cast includes Aunt Spiker played by Sami Foster; Aunt Sponge, Trinalee Hatch; Grasshopper, Jensen Otteson; Centipede, Hunter Peterson; Lady Bug, Aubrey Jorgensen; Spider, Scyler Smith; Earth Worm, Emma Bowers; tour guilds, parents/ship crew/news crew, Patrick Paulk and Danielle Simmons; and Rhino/stage crew, Kyra Waechtler.
The lightboard operator is Hailey Haymond; soundboard operator, Ben Peterson; stage manager, Kyaera Price; stage crew/assistant stage manager, Max Otteson; and director, Corey Ewan.
"I have absolutely loved this show! I have been able to play my violin again after a year of not playing. I have also been able to help paint the set! Grasshopper is a fun sophisticated character and he is very fun to play," said Jensen Otteson who plays Grasshopper.
"This play has been amazing to work on. Everyone is so fun to work with and I think it will be a great experience for the actors and the audience," said Danielle Simmons who is duo cast as tour guides, ship crew and news crew.
"I have enjoyed working on this show because it had allowed me to step out of my comfort zone and have more fun than I have in a long time. I love how different this show is and how we all get to let go and just be funny," said Emma Bowers who plays the Earth Worm.
Tickets are $12 adults; $9 seniors; $7 faculty staff, students, alumni; $5 children 5-11; $3 USUE students and $30 family pass (two adults and two children; $5 for each additional child). April 14 is student night and all USUE students are admitted for free.