From meteorology to nursing instructor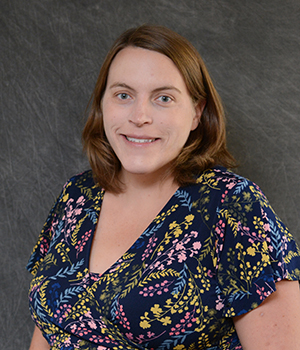 One of the newest members of Utah State University nursing department is Jacqueline Beth Ware, 37, who was born and raised in Salt Lake City.
Both of her parents live in Salt Lake and are retired. Her mother was an elementary school principal and her father owned his own videography business. He was also a news producer with channel 4 back in the '70s. Wares' brother is 2 years younger than her.
"Unfortunately he isn't really able to do much with his life. He is a veteran of Iraq and Afghanistan and has some traumatic brain injury issues and PTSD," she said.
Ware's husband is six years younger than her and works at home for Apple. They have two younger boys named Orion, 4, and Bridger who is one and a half years old.
As a family, they enjoy camping, hiking, fishing, boating, and anything else that involves being outside. They have a side by side, and are planning on getting another one soon.
Her favorite book to read is the Harry Potter series and her favorite movies are "Love Actually", "Lord of the Rings", "Galaxy Quest" and "Jurassic Park." Before she dies she hopes to travel. "I would like to go to Greece, Chaco Canyon, Maine in the fall, Nashville and New Orleans."
When asked about her major she said, "Which one!" Something unique about Ware is the fact that she earned a meteorology degree from the University of Utah in 2007, before deciding she wanted to pursue a nursing degree.
"I just have always liked science and I was a nerd who loved "Twister" when I was young and tornado chasing. I just like natural disasters and things, so I went into meteorology," she said.
Ware never thought about going into nursing until her mom brought it up to her one day. "I think nursing would work for me because I get along with almost everybody and felt like I had a good personality for it."
She earned her bachelor's degree of nursing from Idaho State in 2015, worked for a year while working towards getting her master's degree in nursing from Western Governors University with an emphasis on leadership.
When it comes down to Ware's dream job, she said, "This is my dream job and never even thought that it would be. I love being a nursing instructor and professor. It's so much fun for me to watch everybody grow and I definitely never thought that I would teach because I hate speaking in front of people. And once I tried it, I decided that I really liked it and thought it was fun."
Stress is common in a lot of nursing professionals, but Ware tends to manage her stress well. She said she likes to handle stress by watching a movie or getting out of the house to go hiking. "When I am stressed, I will have a Margarita, but I don't have a problem."
Something her dad told her once that has stuck with her was, "I don't ever really worry about you, because I know that you are going to do just fine." Which has been encouraging to her throughout her life.
Her proudest achievement she said is, "being a mom!" She enjoys being a mother and a wife and wouldn't trade it for the world. The most meaningful thing to Ware would definitely be her family.